This article is about the year 117. For other uses, see
117 (number)
.
Roman Empire
Edit
On his death bed, Trajan adopts Hadrian and designates him as his successor.
August 9 — Emperor Trajan dies, leaving the Roman Empire at its maximal territorial extent.
Hadrian, who will reign until 138, succeeds him.

Hadrian, a Spaniard like Trajan, is an excellent officer who has had a brilliant career. He is well-cultured man, who as Emperor inaugurates a civil government, giving up the policy of conquest of his predecessor in order to consolidate the empire.

Hadrian returns large parts of Mesopotamia to the Parthians as part of a peace settlement.
Construction begins on the Pantheon in Rome.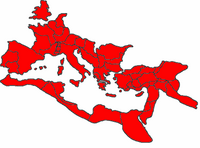 People of the year 117 at Familypedia
0 people were born in 117
0 children were born to the 0 women born in 117
0 people died in 117

3 people lived in 117
Events of the year 117 at Familypedia
Edit
0 people were married in 117.

There were 0 military battles in 117.
This page uses content from the English language Wikipedia. The original content was at 117. The list of authors can be seen in the page history. As with this Familypedia wiki, the content of Wikipedia is available under the Creative Commons License.
Ad blocker interference detected!
Wikia is a free-to-use site that makes money from advertising. We have a modified experience for viewers using ad blockers

Wikia is not accessible if you've made further modifications. Remove the custom ad blocker rule(s) and the page will load as expected.