Year 1609 was a common year starting on Thursday (link will display the full calendar) of the Gregorian calendar (or a common year starting on Sunday of the 10-day slower Julian calendar).
Events of 1609
Edit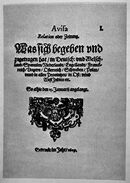 January - June
Edit
July - December
Edit
See also 1609 births.
See also 1609 deaths.
This page uses content from the English language Wikipedia. The original content was at 1609. The list of authors can be seen in the page history. As with this Familypedia wiki, the content of Wikipedia is available under the Creative Commons License.
People of the year 1609 at Familypedia
40 people were born in 1609
23 children were born to the 14 women born in 1609
10 people died in 1609
1653 people lived in 1609
Events of the year 1609 at Familypedia
Edit
24 people were married in 1609.
There were 0 military battles in 1609.