This article is about the year 1776.

Wikimedia Commons has media related to:

Year 1776 (MDCCLXXVI) was a leap year starting on Monday (link will display the full calendar) of the Gregorian calendar and a leap year starting on Friday of the 11-day slower Julian calendar.
January–February
Edit
March–April
Edit
May–June
Edit
July–August
Edit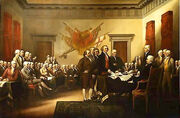 September–October
Edit
November–December
Edit
March 10
March 24 – John Harrison, English clockmaker (b. 1693)
March 26 – Samuel Ward, American politician (b. 1725)
April 29 – Edward Wortley Montagu, English traveler and writer (b. 1713)
May 4 – Jacques Saly, French sculptor (b. 1717)
June 10 – Leopold Widhalm, Austrian luthier (b. 1722)
June 20 – Benjamin Huntsman, English inventor and manufacturer (b. 1704)
July 7 – Jeremiah Markland, English classical scholar (b. 1693)
July 10 – Richard Peters, English-born clergyman (b. 1704)
August 1 – Francis Salvador, American patriot (b. 1747)
August 2 – Louis François I, Prince of Conti, French military leader (b. 1717)
August 25 – David Hume, Scottish philosopher (b. 1711)
September 22 – Nathan Hale, American Revolutionary War captain, writer and patriot (executed) (b. 1755)
October 17 – Pierre François le Courayer, French theologian (b. 1681)
November 17 – James Ferguson, Scottish astronomer (b. 1710)
References
Edit
This page uses content from the English language Wikipedia. The original content was at 1776. The list of authors can be seen in the page history. As with this Familypedia wiki, the content of Wikipedia is available under the Creative Commons License.
People of the year 1776 at Familypedia
105 people were born in 1776
85 children were born to the 41 women born in 1776
73 people died in 1776
4717 people lived in 1776
Events of the year 1776 at Familypedia
Edit
61 people were married in 1776.
There were 0 military battles in 1776.
Ad blocker interference detected!
Wikia is a free-to-use site that makes money from advertising. We have a modified experience for viewers using ad blockers

Wikia is not accessible if you've made further modifications. Remove the custom ad blocker rule(s) and the page will load as expected.