This article is about the year 1918.

Year 1918 (MCMXVIII) was a common year starting on Tuesday (link will display the full calendar) of the Gregorian calendar and a common year starting on Monday of the 13-day-slower Julian calendar.
Below, events of World War Ihave the "WWI" prefix.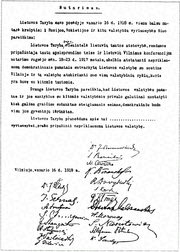 February
Edit
February 5 – The SS Tuscania is torpedoed off the Irish coast, it is the first ship carrying American troops to Europe to be torpedoed and sunk.
September
Edit
November
Edit
December
Edit
Date unknown
Edit
January–February
Edit
March–April
Edit
May–June
Edit
July–August
Edit
July 4
July 5 – George Rochberg, American composer (d. 2005)
July 6 – Sebastian Cabot, American actor (Family Affair) (d. 1977)
July 9 – Jarl Wahlström, Salvation Army General (d. 1999)
July 12 – Mary Glen-Haig, British Olympic fencer
July 13 – Alberto Ascari, Italian race car driver (d. 1955)
July 14 – Ingmar Bergman, Swedish film director (d. 2007)
July 15 – Bertram N. Brockhouse, Canadian physicist, Nobel Prize laureate (d. 2003)
July 16 – Bayani Casimiro, Filipino dancer and actor (d. 1989)
July 18 – Nelson Mandela, President of South Africa, recipient of the Nobel Peace Prize
July 24 – Ruggiero Ricci, Italian-born violinist (d. 2012)
July 25 – Jane Frank, American artist (d. 1986)
July 26 – Marjorie Lord, American actress
July 27 – Leonard Rose, American cellist (d. 1984)
July 29 – Edwin O'Connor, American novelist and Pulitzer Prize for Fiction winner (d. 1968)
July 31
August 3 – Sidney Gottlieb, American Central Intelligence Agency official (d. 1999)
August 4 – Noel Willman, Irish actor (d. 1988)
August 5 – Betty Oliphant, co-founder of National Ballet of Canada (d. 2004)
August 8 – Brian Stonehouse, English painter and WWII spy (d. 1998)
August 13 – Frederick Sanger, English biochemist, Nobel Prize laureate
August 22
August 25 – Leonard Bernstein, American composer and conductor (d. 1990)
August 26 – Hutton Gibson, religion writer and father of actor Mel Gibson
August 27 – Jelle Zijlstra, Dutch politician, Prime Minister of the Netherlands from 1966 until 1967 (d. 2001)
August 30 – Ted Williams, American baseball player (d. 2002)
September–October
Edit
November–December
Edit
November 4
November 7 – Billy Graham, American evangelist, spiritual adviser to several U.S. Presidents
November 9 – Spiro Agnew, American Vice President (d. 1996)
November 10 – Ernst Otto Fischer, German chemist, Nobel Prize laureate (d. 2007)
November 13 – Jack Elam, American actor (d. 2003)
November 21 – Dorothy Maguire Chapman, American professional baseball player (d. 1981)
November 29 – Madeleine L'Engle, American author (d. 2007)
November 30 – Efrem Zimbalist, Jr., American actor (The FBI)
December 8 – Gérard Souzay, French baritone (d. 2004)
December 9 – Jerome Beatty, Jr., author of children's literature (d. 2002)
December 11 – Aleksandr Solzhenitsyn, Russian writer, Nobel Prize laureate (d. 2008)
December 12 – Joe Williams, American jazz singer (d. 1999)
December 15 – Jeff Chandler, American actor (d. 1961)
December 20 – Joseph Payne Brennan, American poet/author (d. 1990)
December 21
December 23
December 25
January–June
Edit
July–December
Edit
Nobel Prizes
Edit
References
Edit
This page uses content from the English language Wikipedia. The original content was at 1918. The list of authors can be seen in the page history. As with this Familypedia wiki, the content of Wikipedia is available under the Creative Commons License.
People of the year 1918 at Familypedia
88 people were born in 1918
16 children were born to the 36 women born in 1918
206 people died in 1918
10747 people lived in 1918
Events of the year 1918 at Familypedia
Edit
129 people were married in 1918.
There were 0 military battles in 1918.
Ad blocker interference detected!
Wikia is a free-to-use site that makes money from advertising. We have a modified experience for viewers using ad blockers

Wikia is not accessible if you've made further modifications. Remove the custom ad blocker rule(s) and the page will load as expected.