This article is about the year 1944.


Year 1944 (MCMXLIV) was a leap year starting on Saturday (link will display the full calendar) of the Gregorian calendar.
Below, events of World War II have the "WWII" prefix.
February
Edit
March
March 1 – WWII:
March 2

WWII: A train stalls inside a railway tunnel outside Salerno, Italy; 521 choke to death.
The 16th Academy Awards ceremony is held.

March 3 – WWII: The Order of Nakhimov and the Order of Ushakov are instituted in the USSR.
March 4 – In Ossining, New York, Louis Buchalter, the leader of 1930s crime syndicate Murder, Inc., is executed at Sing Sing, along with Emanuel Weiss, and Louis Capone.
March 10 – WWII: In Britain the Education Act lifts the ban on women teachers marrying.
March 11 – Dutch resistance fighter Joop Westerweel.
March 12 – WWII: The Political Committee of National Liberation is created in Greece.
March 15
March 17 – WWII: The Nazis execute almost 400 prisoners, Soviet citizens and anti-fascist Romanians at Rîbniţa.
March 19 – WWII: German forces occupy Hungary in Operation Margarethe.
March 18 – The eruption of Mount Vesuvius in Italy kills 26 and causes thousands to flee their homes.
March 20 – WWII: RAF Flight Sergeant Nicholas Alkemade's bomber is hit over Germany, and he has to bail out without a parachute from a height of over 4,000 meters. Tree branches interrupt his fall and he lands safely on deep snow.
March 23 – WWII: Members of the Italian Resistance attack Nazis marching in Via Rasella, killing 33.
March 24 – WWII:

Fosse Ardeatine massacre: 335 Italians are killed, including 75 Jews and over 200 members of the Italian Resistance from various groups, in Rome.
In the Polish village of Markowa, German police kill Józef and Wiktoria Ulm, their six children and eight Jews they were hiding.
The "Great Escape" – 76 Royal Air Force prisoners escape by tunnel "Harry" from Stalag Luft III this night. Only three return to the UK; of those recaptured, fifty are executed.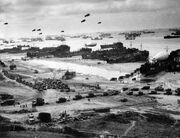 July 1 – The United Nations Monetary and Financial Conference begins at Bretton Woods, New Hampshire.
July 3 – WWII:

Soviet troops liberate Minsk.
Battle of Imphal: Japanese forces call off their advance, ending the battle in a British victory.

July 6

Hartford circus fire: More than 100 children die in one of the worst fire disasters in the history of the United States.
WWII: At Camp Hood, Texas, future baseball star and 1st Lt. Jackie Robinson is arrested and later court-martialed for refusing to move to the back of a segregated U.S. Army bus. He is eventually acquitted.

July 10 – WWII: Soviet troops begin operations to occupy the Baltic countries.
July 12 – Laurence Olivier's film Henry V, based on Shakespeare's play, opens in London. It is the most acclaimed and the most successful movie version of a Shakespeare play made up to that time, and the first in Technicolor. Olivier both stars and directs, as Kenneth Branagh was to do over forty years later in his successful remake.
July 16 – WWII: The first contingent of the Brazilian Expeditionary Force arrives in Italy.
July 17 – WWII:
July 18 – WWII: Hideki Tojo resigns as Prime Minister of Japan due to numerous setbacks in the war effort.

British forces launch Operation Goodwood, an armoured offensive aimed at driving the Germans from the high ground to the south of Caen. The offensive ends 2 days later with only minimal gains.

July 20 – WWII: Adolf Hitler survives an assassination attempt by Claus von Stauffenberg.
July 21 – WWII:
July 22

The Bretton Woods Conference ends with various agreements signed.
United States v. Masaaki Kuwabara,[2] the only Japanese-American draft resistance case to be dismissed on a due process violation of the U.S. Constitution.

July 25 – WWII – Operation Spring: One of the bloodiest days for Canadians during the war results in 1,550 casualties, including 450 killed.
July 26 – WWII: A Messerschmitt Me 262 becomes the first jet fighter aircraft to have an operational victory.[3]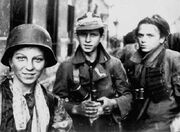 September
Edit
November
Edit
December
Edit
Date unknown
Edit
February
Edit
March 1
March 2 – Uschi Glas, German actress
March 4
March 5 – Peter Brandes, Danish artist
March 6
March 8 – Buzz Hargrove, Canadian labour leader
March 11 – Don Maclean, English comedian
March 17 – John Sebastian, American singer and songwriter (The Lovin' Spoonful) Pattie Boyd Model and George Harrison's first wife.
March 19
March 21 – Hilary Minster, English actor (d. 1999)
March 24 – R. Lee Ermey, U.S. Marine and actor
March 26 – Diana Ross, American singer (The Supremes)
March 27 – Khosrow Shakibai, Iranian actor (d. 2008)
March 28
March 29 – Denny McLain, American baseball player
September
Edit
November
Edit
November 1
November 6 – Wild Man Fischer, Outsider musician
November 7 – Joe Niekro, American baseball player (d. 2006)
November 10
November 11 – Kemal Sunal, Turkish comedian
November 12
November 18 – Wolfgang Joop, German artist, fashion designer and art collector
November 21 – Richard Durbin, American politician
November 24 – Ibrahim Gambari, Nigerian scholar and diplomat
November 25 – Ben Stein, American law professor, actor and author
November 30 – George Graham, Scottish football player and manager
December
Edit
December 2
December 5 – Jeroen Krabbe, Dutch actor and film director
December 6
December 7
December 9
December 11
December 12 – Kenneth Cranham, Scottish born actor
December 17 – Bernard Hill, English actor
December 19 – Tim Reid, American actor and comedian
December 21
December 22 – Steve Carlton, American baseball player
December 23
December 24 – Erhard Keller, German speed skater
December 25 – Jairzinho, Brazilian football player
December 26
December 28 – Kary Mullis, American chemist, Nobel Prize laureate
December 30 – Joseph Hilbe, American statistician and author
December 31 – Jan Widströmer, Swedish artist
Date unknown
Edit
January–March
Edit
January 1
January 6 – Ida Tarbell, American journalist (b. 1857)
January 7 – Lou Henry Hoover, Wife of President Herbert Hoover (b. 1874)
January 10 – William Emerson Ritter, American biologist (b. 1856)
January 11
January 20 – James McKeen Cattell, American psychologist (b. 1860)
January 23 – Edvard Munch, Norwegian painter (b. 1863)
January 31
February 1 – Piet Mondriaan, Dutch painter (b. 1872)
February 4 – Yvette Guilbert, French singer and actress (b. 1867)
February 11 – Carl Meinhof, German linguist (b. 1857)
February 12
February 13 – Edgar Selwyn, American screenwriter (b. 1875)
February 16 – Henri Nathansen, Danish writer and stage director (b. 1868)
February 21 – Ferenc Szisz, Hungarian-born race car driver (b. 1873)
February 29 – Pehr Evind Svinhufvud, Finnish politician (b. 1861)
March 4 – Louis Buchalter, Jewish-American mobster, head of Murder, Inc. (b. 1897)
March 11 – Irvin S. Cobb, American writer (b. 1876)
March 22 – Pierre Brossolette, journalist and French Resistance fighter (b. 1903)
March 23 – Myron Selznick, American film producer (b. 1898)
March 24 – Orde Wingate, British soldier (b. 1903)
March 31 – Mineichi Koga, Japanese admiral (b. 1885)
April–June
Edit
July–September
Edit
October–December
Edit
Date unknown
Edit
Nobel Prizes
Edit
References
Edit
This page uses content from the English language Wikipedia. The original content was at 1944. The list of authors can be seen in the page history. As with this Familypedia wiki, the content of Wikipedia is available under the Creative Commons License.
People of the year 1944 at Familypedia
40 people were born in 1944
6 children were born to the 10 women born in 1944
212 people died in 1944
8577 people lived in 1944
Events of the year 1944 at Familypedia
Edit
62 people were married in 1944.
There were 0 military battles in 1944.