This article is about the year 1951.

Year 1951 (MCMLI) was a common year starting on Monday (link will display the full calendar) of the Gregorian calendar.
February
Edit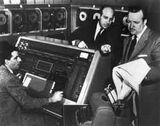 September
Edit
November
Edit
December
Edit
January–February
Edit
March–April
Edit
May–June
Edit
July–August
Edit
July 1
July 2 – Elisabeth Brooks, Canadian actress (The Howling) (d. 1997)
July 3 – Richard Hadlee, New Zealand cricketer
July 5 – Rich "Goose" Gossage, American baseball player
July 6 – Geoffrey Rush, Australian actor
July 8 – Anjelica Huston, American actress
July 9 – Chris Cooper, American actor
July 10 – Cheryl Wheeler, American singer and songwriter
July 12 – Cheryl Ladd, American actress and singer (Charlie's Angels)
July 14 – Erich Hallhuber, German actor (d. 2003)
July 16 – Jean-Luc Mongrain, Canadian news anchor and journalist
July 18 – Elio Di Rupo, Belgian politician
July 21 – Robin Williams, American actor (Mork and Mindy)
July 23
July 24
July 25 – Yuriy Kovalchuk, Russian oligarch
July 28
July 31
August 2 – Andrew Gold, American singer, musician, and songwriter (d. 2011)
August 3 – Marcel Dionne, Canadian hockey player
August 6
August 8
August 12 – Willie Horton, American criminal
August 13 – Dan Fogelberg, American singer, songwriter, and multi-instrumentalist (Longer) (d. 2007)
August 14 – Carl Lumbly, American actor
August 16 – Richard Hunt, American puppeteer (d. 1992)
August 19 – John Deacon, English rock bassist (Queen)
August 21 – Eric Goles, Chilean mathematician and computer scientist
August 22 – Chandra Prakash Mainali, Nepalese politician
August 23
August 24 – Orson Scott Card, American writer
August 25 – Rob Halford, English rock singer (Judas Priest)
August 26 – Edward Witten, American mathematician and Fields medalist
August 27 – Mack Brown, University of Texas football coach
August 28 – Wayne Osmond, American pop singer
September–October
Edit
November–December
Edit
Date unknown
Edit
January–March
Edit
April–June
Edit
July–September
Edit
October–December
Edit
Nobel Prizes
Edit
References
Edit
This page uses content from the English language Wikipedia. The original content was at 1951. The list of authors can be seen in the page history. As with this Familypedia wiki, the content of Wikipedia is available under the Creative Commons License.
People of the year 1951 at Familypedia
30 people were born in 1951
7 children were born to the 8 women born in 1951
173 people died in 1951
5825 people lived in 1951
Events of the year 1951 at Familypedia
Edit
41 people were married in 1951.
There were 0 military battles in 1951.
Ad blocker interference detected!
Wikia is a free-to-use site that makes money from advertising. We have a modified experience for viewers using ad blockers

Wikia is not accessible if you've made further modifications. Remove the custom ad blocker rule(s) and the page will load as expected.