This article is about the year 1959.


Year 1959 (MCMLIX) was a common year starting on Thursday (link will display the full calendar) of the Gregorian calendar.
February
Edit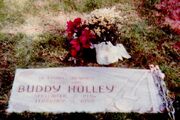 September
Edit
November
Edit
December
Edit
Date unknown
Edit
February
Edit
September
Edit
November
Edit
December
Edit
December 1
December 4 – Christa Luding, German speed skater
December 6 – Satoru Iwata, Japanese president of Nintendo
December 13 – Johnny Whitaker, American actor
December 16
December 19 – Waise Lee, Hong Kong actor
December 20
December 21 – Florence Griffith Joyner, American athlete (d. 1998)
December 22 – Bernd Schuster, German footballer and manager
December 24 – Keith Deller, English darts player
December 25 – Michael P. Anderson, American Astronaut (d. 2003)
December 27 – Gerina Dunwich, American author
December 30 – Tracey Ullman, English/American comedian and actress
December 31
Date unknown
Edit
January–March
Edit
April–June
Edit
July–September
Edit
October–December
Edit
Nobel Prizes
Edit
References
Edit
This page uses content from the English language Wikipedia. The original content was at 1959. The list of authors can be seen in the page history. As with this Familypedia wiki, the content of Wikipedia is available under the Creative Commons License.
People of the year 1959 at Familypedia
29 people were born in 1959
4 children were born to the 13 women born in 1959
129 people died in 1959
4793 people lived in 1959
Events of the year 1959 at Familypedia
Edit
37 people were married in 1959.
There were 0 military battles in 1959.
Ad blocker interference detected!
Wikia is a free-to-use site that makes money from advertising. We have a modified experience for viewers using ad blockers

Wikia is not accessible if you've made further modifications. Remove the custom ad blocker rule(s) and the page will load as expected.