This article is about the year 1971.


Year 1971 (MCMLXXI) was a common year starting on Friday (link will display the full calendar) of the Gregorian calendar.
Events 1971
Edit
January 2
January 3 – BBC Open University begins in the United Kingdom.
January 5 – The 1st ever ODI cricket match is played between Australia & England at the M.C.G.
January 8 – Tupamaros kidnap Geoffrey Jackson, British ambassador to Uruguay, in Montevideo, keeping him captive until September.
January 9 – Uruguayan president Jorge Pacheco Areco demands emergency powers for 90 days due to kidnappings, and receives them the next day.
January 12 – The landmark television sitcom All In The Family, starring Carroll O'Connor as Archie Bunker, debuts on CBS.
January 14 – Seventy Brazilian political prisoners are released in Santiago, Chile. Giovanni Enrico Bucher is released January 16.
January 15 – The Aswan High Dam officially opens in Egypt.
January 17 – The Baltimore Colts defeated the Dallas Cowboys, 16-13, in Super Bowl V. The game was plagued by a record combined 11 turnovers, and was not decided until Jim O'Brien kicked a 32-yard field goal with five seconds remaining. Cowboys linebacker Chuck Howley became the first player from a losing team to be named Super Bowl MVP.
January 18 – Strikes in Poland demand the resignation of Interior Minister Kazimierz Switala. He resigns January 23 and is replaced by Franciszek Szlachcic.
January 19 – Representatives of 23 western oil companies begin negotiations with OPEC in Tehran to stabilize oil prices. February 14 they sign a treaty with 6 Khalij el-Arab countries.
January 24 – The Guinean government sentences to death 92 Guineans who helped Portuguese troops in the failed landing attempts in November 1970; 72 are sentenced to hard labor for life; 58 of the sentenced are hanged the next day.
January 31 – Apollo program: Apollo 14 (carrying astronauts Alan Shepard, Stuart Roosa, and Edgar Mitchell) lifts off on the third successful lunar landing mission.
February
Edit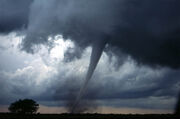 September
Edit
September 3
September 4 – A Boeing 727 (Alaska Airlines Flight 1866) crashes into the side of a mountain near Juneau, Alaska, killing all 111 people on board.
September 8 – In Washington, DC, the John F. Kennedy Center for the Performing Arts is inaugurated, with the opening feature being the premiere of Leonard Bernstein's Mass.
September 9 – September 13 – Attica Prison riots: – A revolt breaks out at the maximum-security prison in Attica, New York. In the end, state police and the United States National Guard storm the facility; 42 are killed, 10 of them hostages.
September 19 – The electric tram system closes in the city of Ballarat, Victoria, Australia.
September 21 – Pakistan declares a state of emergency.
September 24 – Britain expels 90 KGB and GRU officials; 15 are not allowed to return.
September 27–October 11 – Japanese Emperor Hirohito travels abroad.
September 28 – Cardinal József Mindszenty, who has taken refuge in the U.S. Embassy in Budapest since 1956, is allowed to leave Hungary.
September 29 – A cyclone in the Bay of Bengal, in Orissa State in India, kills 10,000.
November
Edit
December
Edit
Date unknown
Edit
February
Edit
September
Edit
November
Edit
December
Edit
Date unknown
Edit
February
Edit
September
Edit
November
Edit
December
Edit
Date unknown
Edit
Nobel Prizes
Edit
References
Edit
This page uses content from the English language Wikipedia. The original content was at 1971. The list of authors can be seen in the page history. As with this Familypedia wiki, the content of Wikipedia is available under the Creative Commons License.
People of the year 1971 at Familypedia
26 people were born in 1971
1 children were born to the 10 women born in 1971
126 people died in 1971
3903 people lived in 1971
Events of the year 1971 at Familypedia
Edit
35 people were married in 1971.
There were 0 military battles in 1971.