This article is about the year 1987.


1987 (MCMLXXXVII) was a common year that started on a Thursday, in accordance with the Gregorian calendar. It is the 1987th year of the Common Era, or A.D.; the 987th year of the 2nd millennium; the 87th year of the 20th century; and the 8th year of the 1980s decade. It will also be the last year with all the digits being different numbers, until 2013.
February
Edit
September
Edit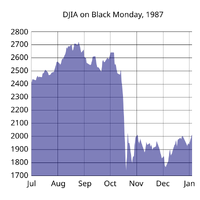 November
Edit
December
Edit
Date unknown
Edit
In fiction
Edit
The following are references to year 1987 in fiction:
February
Edit
September
Edit
September 2
September 3 – James Neal, Canadian ice hockey player
September 7
September 8 – Wiz Khalifa, American rapper
September 9 – Afrojack, Dutch DJ and music producer
September 11 – Susianna Kentikian, German-Armenian boxer
September 15 – Clare Maguire, British singer-songwriter
September 19 – Danielle Panabaker, American actress
September 22 – Tom Felton, English actor
September 23 – Skylar Astin, American actor
September 24
September 28 – Hilary Duff, American actress and singer
September 29 – Kyle Riabko, Canadian pop singer, guitarist
November
Edit
November 3
November 4
November 5 – Kevin Jonas, American singer/songwriter
November 6
November 7 – Rachele Brooke Smith, American actress and dancer
November 8 – Samantha Droke, American actress
November 11 – Yuya Tegoshi, Japanese singer (NEWS, Tegomass)
November 17 – Kat DeLuna, American singer
November 18 – Jake Abel, American Actor
November 23 – Snooki, American television personality
November 24 – Elena Satine, American film actress and singer
November 25 – Dolla, American Rapper (d. 2009)
November 28 – Karen Gillan, Scottish actress
November 30 – Dougie Poynter, English musician (McFly)
December
Edit
February
Edit
September
Edit
November
Edit
December
Edit
Date unknown
Edit
Nobel Prizes
Edit
Right Livelihood Award
Edit
Templeton Prize
Edit
References
Edit
This page uses content from the English language Wikipedia. The original content was at 1987. The list of authors can be seen in the page history. As with this Familypedia wiki, the content of Wikipedia is available under the Creative Commons License.
People of the year 1987 at Familypedia
8 people were born in 1987
1 children were born to the 5 women born in 1987
80 people died in 1987
1839 people lived in 1987
Events of the year 1987 at Familypedia
Edit
19 people were married in 1987.
There were 0 military battles in 1987.