This article is about the year 1989.


1989 (MCMLXXXIX) spoken "Nineteen Eighty Nine" or "9teen eighty-nine" was a common year starting on Sunday. It was the 1989th year of the Common Era ("A.D."); the 989th year of the 2nd millennium; the 89th year of the 20th century; and the 10th and last year of the 1980s decade. It was a historical turning point for the wave of revolutions that swept the Eastern Bloc, starting in Poland. Collectively known as the Revolutions of 1989, they heralded the dissolution of the Soviet Union two years later and the beginning of the post–Cold War period, which is characterized by the dominance of the United States in world affairs.
February
Edit
September
Edit
November
Edit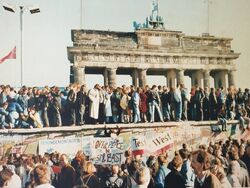 December
Edit
Date unknown
Edit
February
Edit
September
Edit
September 1
September 2 – Alexandre Pato, Brazilian footballer
September 7 – Hugh Mitchell, British actor
September 8 – Avicii, Swedish DJ, remixer, and record producer
September 9 – Sean Malto, American Professional Skateboarder
September 12 – Freddie Freeman, American baseball player
September 13 – Thomas Müller, German football player
September 14 – Logan Henderson, Lebanese American actor, dancer, and singer
September 15 – Steliana Nistor, Romanian gymnast and Olympic medalist
September 19 – Tyreke Evans, American basketball player, 2010 NBA Rookie of the Year
September 21 – Jason Derulo, American singer-songwriter. actor
September 22
September 23 – Brandon Jennings, American basketball player
September 26 – Emma Rigby, British actress
September 27 – Park Tae-Hwan, South Korean swimmer
September 29 – Theo Adams, British performance artist
November
Edit
December
Edit
February
Edit
September
Edit
November
Edit
December
Edit
Nobel Prizes
Edit
Templeton Prize
Edit
In fiction
Edit
References
Edit
This page uses content from the English language Wikipedia. The original content was at 1989. The list of authors can be seen in the page history. As with this Familypedia wiki, the content of Wikipedia is available under the Creative Commons License.
People of the year 1989 at Familypedia
13 people were born in 1989
0 children were born to the 5 women born in 1989
66 people died in 1989
1438 people lived in 1989
Events of the year 1989 at Familypedia
Edit
9 people were married in 1989.
There were 0 military battles in 1989.
Ad blocker interference detected!
Wikia is a free-to-use site that makes money from advertising. We have a modified experience for viewers using ad blockers

Wikia is not accessible if you've made further modifications. Remove the custom ad blocker rule(s) and the page will load as expected.