This article is about the year 1994.


1994 (MCMXCIV) was a common year that started on a Saturday. In the Gregorian calendar, it was the 1994th year of the Common Era, or of Anno Domini; the 994th year of the 2nd millennium; the 94th year of the 20th century; and the 5th of the 1990s. The year 1994 was designated as the "International Year of the Family" and the "International Year of Sport and the Olympic Ideal" by the United Nations.
January 1
January 6 – In Detroit, Michigan, Nancy Kerrigan is clubbed on the right leg by an assailant, under orders from figure skating rival Tonya Harding's ex-husband.
January 8 – Soyuz TM-18: Valeri Polyakov begins his 437.7 day orbit, eventually setting the world record for days spent in orbit.
January 11
January 14 – U.S. President Bill Clinton and Russian President Boris Yeltsin sign the Kremlin accords, which stop the preprogrammed aiming of nuclear missiles toward each country's targets, and also provide for the dismantling of the nuclear arsenal in Ukraine.
January 15 – The SS American Star breaks tow in the Atlantic Ocean and is beached at Fuerteventura in the Canary Islands a few days later.
January 17 – The 1994 Northridge earthquake, magnitude 6.7, hits the San Fernando Valley of Los Angeles at 4:31 a.m., killing 72 and leaving 26,029 homeless.
January 19 – Record cold temperatures hit the eastern United States. The coldest temperature ever measured in Indiana state history, −36°F (−38°C), is recorded in New Whiteland, Indiana.
January 20 – In South Carolina, Shannon Faulkner becomes the first female cadet to attend The Citadel, but soon drops out.
January 21 – Lorena Bobbitt is found not guilty by reason of insanity on charges of mutilating her husband John.
January 25 – U.S. President Bill Clinton delivers his first State of the Union address, calling for health care reform, a ban on assault weapons, and welfare reform.
January 26 – A man fires 2 blank shots at Charles, Prince of Wales in Sydney, Australia.
February
Edit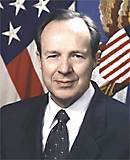 September
Edit
November
Edit
December
Edit
Date unknown
Edit
January–March
Edit
April–June
Edit
July–September
Edit
October–December
Edit
February
Edit
April 1
April 2 – Betty Furness, American actress, author, and consumer advocate (b. 1916)
April 5 – Kurt Cobain, American singer and songwriter (b. 1967)
April 6
April 7
April 10 – Sam B. Hall, American politician (b. 1924)
April 15 – John Curry, British figure skater (b. 1949)
April 16 – Ralph Ellison, American writer (b. 1914)
April 17 – Roger Wolcott Sperry, American neurobiologist, recipient of the Nobel Prize in Physiology or Medicine (b. 1913)
April 22 – Richard Nixon, 37th President of the United States (b. 1913)
April 24 – Masutatsu Ōyama, Korean-Japanese Karate master (b. 1923)
April 27 – Lynne Frederick, English actress (b. 1954)
April 28 – Berton Roueché, American writer (b. 1910)
April 29 – Russell Kirk, American political philosopher (b. 1918)
April 30
September
Edit
November
Edit
December
Edit
Nobel Prizes
Edit

Templeton Prize
Edit
Fields Medal
Edit
Right Livelihood Award
Edit
References
Edit
This page uses content from the English language Wikipedia. The original content was at 1994. The list of authors can be seen in the page history. As with this Familypedia wiki, the content of Wikipedia is available under the Creative Commons License.
People of the year 1994 at Familypedia
11 people were born in 1994
0 children were born to the 4 women born in 1994
73 people died in 1994
1509 people lived in 1994
Events of the year 1994 at Familypedia
Edit
14 people were married in 1994.
There were 0 military battles in 1994.