Script error
2016 (MMXVI ) was a leap year starting on Friday of the Gregorian calendar, the 2016th year of the Common Era (CE) and Anno Domini (AD) designations, the 16th year of the 3rd millennium, the 16th year of the 21st century, and the 7th year of the 2010s decade.

Wikimedia Commons has media related to:
2016 was designated as:
International Year of Global Understanding (IYGU) by the International Council for Science (ICSU), the International Social Science Council (ISSC), and the International Council for Philosophy and Human Sciences (CIPSH).[2]
September
Edit
February
Edit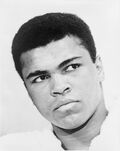 September
Edit
Nobel Prizes
Edit
See also
Edit
References
Edit
This page uses content from the English language Wikipedia. The original content was at 2016. The list of authors can be seen in the page history. As with this Familypedia wiki, the content of Wikipedia is available under the Creative Commons License.