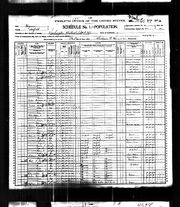 Abram Cline Ostrander (September 12, 1843 - October 2, 1914) was a farmer in Norfolk, Virginia. He gained some fame and notoriety by hosting the inventor and scientist George Poe in his home from around 1900 to 1914. Abram Ostrander's son Arthur assisted Poe in perfecting the first workable artificial respiration device.
Biography
Edit
He was born in Schodack, Rensselaer County, New York, the son of Walter Ostrander (1806-1880) (September 12, 1806 - September 17, 1880) and Eliza Ann Wilbur (1814-1887) (Ostrander) (February 14, 1814 - August 1, 1887). He was baptized in the East Greenbush Reformed Dutch Church on August 6, 1848. He was raised in Schodack, New York on his family's farm, "Brookview, Rensselaer County" and learned the farming business from his father. He was one of 11 children. He married his Northern Virginia first cousin, Harriet Louise Ostrander (April 15, 1856 - November 6, 1947) in 1875. After the death of his father and a subsequent division of land he thought too small to farm individually, they moved south to Norfolk Virginia in 1895 to start a farm of their own.
Abram Ostrander descended from Dutch settlers who arrived in New Netherland (present day New York) in the 1600s. His lineage may be traced to the family progenitor as follows. His father, Walter, was the son of Johannes A. Ostrander (August 8, 1761 - unknown) and Sarah Campbell (May 4, 1775 - March 20, 1848). Johannes was the son of Abraham Ostrander (September 8, 1725 - March 31, 1811) and his cousin Elizabeth Ostrander (baptised March 27, 1732 - September 23, 1823). Abraham Ostrander was the son of Theunis Ostrander (baptised January 16, 1691 - May 1742) and Maritje Suyland. Theunis Ostrander was the son of the family progenitor, Pieter Pieterzen Van Oostrander (later anglicized Ostrander)(May 11, 1653 - 1739) and Rebecca Traphagen (June 10, 1662 - unk).
Abram Ostrander lived in Norfolk only 19 years, but during this time he became well known and esteemed. His obituary stated that he was "one of the best known residents of this section" (the South Norfolk area). He and Harriet raised 6 children: Lewis Sherley Ostrander, George M. Ostrander, Faith Wilbur Ostrander, Cornelia Elizabeth Ostrander, Helen Louise Ostrander, and Arthur Frederick Ostrander (1895-1978). Abram and Harriet were members of St. Thomas Episcopal Church, Berkley, Virginia. He died in 1914 after a long illness. His funeral was presided over by the Rector of St. Thomas Church, the Reverend W. H. Osbourne, in the family home, and he was interred in Riverside Cemetery, Norfolk, Virginia, on October 3, 1914.
Ostrander: a Genealogical Record, 1660-1995, by Vinton and Emmett Ostrander, pages 4,438,439&448.
Death Certificate of Abram Cline Ostrander, October 3, 1914.
Obituary of Abram Cline Ostrander, October 3, 1914.
Cemetery Records of Riverside-Magnolia Cemetery, Norfolk, Virginia