Adrianus Cornelius Hogendoorn 'Ari'
(10 October 1861 - 25 November 1923) was a landowner from Zuid-Holland.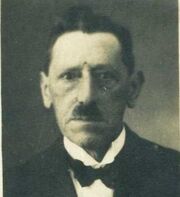 Early Life
Edit
Adrianus Cornelius Hogendoorn was born on 10 October 1861 at Binckhorst in Voorburg, Zuid-Holland. He was the only son of Leonardus Hogendoorn (1829-1912), a councillor and alderman, and his wife Cornelia Hooymans (1820-1871). His mother had been previously married to Antonie Antonius Huijbers (1816-1860). Cornelia and Antonie had the following children, who were Ari's half-siblings: Gerardus Simon Huijbers (1844-1844), who died at two weeks of age, Joannes Anthonius Hogendoorn (1845-1921), a farmer, Theodora Margaretha Hogendoorn (1847-1900), Gerardus Pieter Hogendoorn (1848-1914), a farmer, Anthonius Johannes Hogendoorn (1849-1912), a priest who lived in India, Petronella Johanna Hogendoorn (1850-1934), Catharina Cornelia Hogendoorn (1851-1909), Leonardus Petrus Hogendoorn (1853-1900), a salesman, Helena Maria Hogendoorn (1854-1855), Petrus Gerardus Hogendoorn (1855-1892), Maria Cornelia Hogendoorn (1857-1933) and Jacobus Johannes Hogendoorn (1859-1859), who died at seven months of age. When Ari was nine years old, his mother passed away. She was fifty years old and left her husband to care for Ari and all her children by Antonie Huijbers. The eldest of these was twenty-six and the youngest was fourteen.
Marriage & Children
Edit
On 14 May 1890 in Den Haag, Zuid-Holland, the twenty-eight year old Ari Hogendoorn married Cornelia Wilhelmina Hogendoorn (1867-1957) 'Cor.' The marriage lasted thirty-three years (until Ari's death) and produced ten children:
Leonardus Johannes Adrianus Hogendoorn (1891-1953), a farmer and businessman, married Wilhelmina Geertruida Maria Bak (1896-1948) and had six children.
Johannes Wilhelmus Hogendoorn (1892-1892), who sadly died at eight weeks of age.
Johannes Gerardus Hogendoorn (1894-1894), who sadly died at two weeks of age.
Johanna Jeanette Cornelia Hogendoorn (1896-1920), who was engaged to W.F.A. Bakker when she died.
Cornelia Apolonia Jacoba Hogendoorn (1898-1981), who married Gerardus van den Elshout (1888-1976), a contractor and had four children.
Stillborn child (2 June 1899)
Maria Cornelia Hogendoorn (1900-1974), who remained unmarried and cared for her mother.
Johannes Anthonius Hogendoorn (1902-1969), a butcher and entrepreneur, married Gerarda Maria Maartens (1892-1947) and had six children; then married Mia Wamper (1926-2006) and had five children.
Personal Life
Edit
Ari was a Catholic. He was a farmer and a landowner and after his death his widow continued renting out the houses. The farm Binckhorst where he had been born went up in flames in 1933, ten years after his death. Adrianus suffered from a 'prolonged, painful' illness patiently and passed away on Sunday 25 November 1923 in his home. He was sixty-two years old and survived by his wife and five of his children.