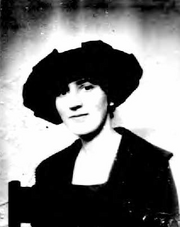 Agnes O'Malley (1891-1980) was a housewife. (b. September 03, 1891, Brooklyn, New York, USA - d. May 01, 1980, Greenwich, Fairfield County, Connecticut, 06830, USA).
She was born on September 03, 1891 in Brooklyn, New York.
Mary Gillin
Edit
Her mother took in Mary Gillin who was placed in an orphanage by her own mother, Grace. The story appeared in the New York Times on February 6, 1925:
"Girl's Parent Warned Not to Annoy Daughter Again. ... 125 Regent Place, Flatbush with Mrs. Agnes O'Malley Naetzker, a daughter of the O'Malleys. Mrs. Gillin came to the Naetzker home recently and took the girl away. Grace returned to the home and asked to be taken back. She told Mrs. Naetzker that her mother compelled her to work in a restaurant with her. On Wednesday Mrs. Gillin appeared again at the Naetzker home and threatened Mrs. Naetzker, who called a policeman and made a charge of disorderly conduct. ... whom do you wish to go, your mother or Mrs. Naetzker? 'Oh, not my mother,' the girl cried. 'Don't ... can give me. Please let me stay with Mrs. Naetzker.' The Magistrate told the girl that she had the right to choose and warned Mrs. Gillin that if she bothered Mrs. Naetzker again she would be sent to the ..."
Mary appears as "Mary O'Malley" in the
1930 United States Census
working as a servant in Agnes' household.
She died on May 1, 1980 in Greenwich, Fairfield County, Connecticut.