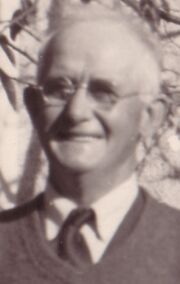 Alfred William Poole (1881-1959) Worker (b. March 06, 1881, Jersey City, Hudson County, New Jersey, USA - d. January 31, 1959, Farmingdale, Nassau County, New York, USA)
He married Julia Ann Lattin (1880-1960) on November 16, 1905 in Farmingdale, Nassau County, Long Island, New York.
They had the following children: Ruth Lattin Poole (1906-2004) who married Harry G. Neumair (1896-1973); Eva Gertrude Poole (1908-1972) who married Cecil Rodney (1904-1978); and Julia Marion Poole (1910-2005) who married Conrad LeRoy Dilthey (1908-1993).
World War I
Edit
On September 09, 1918 Alfred was working as a "mill hand" when he filled out his draft card. He was living on Columbia Street in Farmingdale.
Powell Cemetery, Farmingdale, Nassau County, New York, USA