Alida Petronella Maria Keizer
was born
19 February
1905
in
Hoorn
,
North Holland
,
Netherlands
to
Jacob Keizer (1879-?)
and
Eva Bos (1879-)
and died
9 December
1953
in
Hoorn
,
North Holland
,
Netherlands
of unspecified causes. She married
Jan Tol (1904-1992)
. Ancestors are from the
Netherlands
,
Finland
.
Alida and Jan were 7th cousins once removed; both descend from Pieter Laan (c1620-bef1686).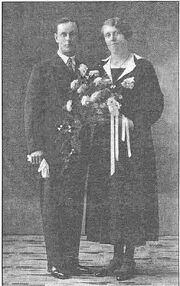 Children
Footnotes (including sources)
Ad blocker interference detected!
Wikia is a free-to-use site that makes money from advertising. We have a modified experience for viewers using ad blockers

Wikia is not accessible if you've made further modifications. Remove the custom ad blocker rule(s) and the page will load as expected.