Allegany County, Maryland
Talk

0
136,454pages on
this wiki
Allegany County

,

Maryland


Seal


Location in the state of Maryland

Maryland's location in the U.S.
Founded
1789
Named for
A local Native American word, oolikhanna, which means "beautiful stream."
Seat
Cumberland
Area
 - Total
 - Land
 - Water

430 sq mi (1,114 km²)
425 sq mi (1,101 km²)
4 sq mi (10 km²), 1.02%
PopulationEst.
 - (2005)
 - Density

73,639
176/sq mi (68/km²)
Website
gov.allconet.org
Allegany County is a county located in the northwestern part of the U.S. state of Maryland. It is part of the Cumberland. As of 2000, the population was 74,930. Its county seat is Cumberland. The name Allegany comes from a local Native American word, oolikhanna, which means "beautiful stream." A number of counties in the Appalachian region of the United States are named Allegany, Allegheny or Alleghany.
The western part of Maryland (including the present Allegany County) was incorporated into Prince George's County in 1696. This county included six current counties, and by repeated splitting, new ones were generated: Frederick from Prince George's in 1748; and Montgomery and Washington from Frederick in 1776.[1]
Allegany County was formed in 1789 by the splitting of Washington County. At the time it was the westernmost county in Maryland, but a later (1872) split produced Garrett County, the current westernmost county.
Law and government
Edit
Allegany County was granted a home rule form of government in 1974.
Transportation
Edit
Geography
Edit
According to the U.S. Census Bureau, the county has a total area of 1,113 km² (430 sq mi). 1,102 km² (425 sq mi) of it is land and 11 km² (4 sq mi) of it (1.02%) is water.
Adjacent Counties
Edit
Significant Topographic Features
Edit
Major Highways
Edit
Demographics
Edit
Historical populations
Census
Pop.
%±
1830
10,590

—

1850
22,799

—

1900
53,694

—

1910
62,411

16.2

%
1920
69,938

12.1

%
1930
79,098

13.1

%
1940
86,973

10.0

%
1950
89,556

3.0

%
1960
84,169

−6.0

%
1970
84,044

−0.1

%
1980
80,548

−4.2

%
1990
74,946

−7.0

%
2000
74,930

0

%
As of the census² of 2000, there were 74,930 people, 29,322 households, and 18,883 families residing in the county. The population density was 68/km² (176/sq mi). There were 32,984 housing units at an average density of 30/km² (78/sq mi). The racial makeup of the county was 93.02% White, 5.35% Black or African American, 0.15% Native American, 0.52% Asian, 0.03% Pacific Islander, 0.19% from other races, and 0.75% from two or more races. 0.76% of the population were Hispanic or Latino of any race. 29.0% were of German, 16.7% United States or American, 12.8% Irish, 10.7% English and 5.3% Italian ancestry according to Census 2000.
There were 29,322 households out of which 26.50% had children under the age of 18 living with them, 50.60% were married couples living together, 10.30% had a female householder with no husband present, and 35.60% were non-families. 30.10% of all households were made up of individuals and 15.20% had someone living alone who was 65 years of age or older. The average household size was 2.35 and the average family size was 2.90.
In the county the population was spread out with 20.60% under the age of 18, 11.20% from 18 to 24, 26.80% from 25 to 44, 23.50% from 45 to 64, and 17.90% who were 65 years of age or older. The median age was 39 years. For every 100 females there were 99.20 males. For every 100 females age 18 and over, there were 96.90 males.
The median income for a household in the county was $30,821, and the median income for a family was $39,886. Males had a median income of $31,316 versus $21,334 for females. The per capita income for the county was $16,780. About 9.70% of families and 14.80% of the population were below the poverty line, including 17.70% of those under age 18 and 9.50% of those age 65 or over.
Cities and towns
Edit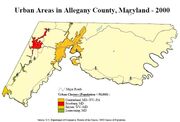 This county contains the following incorporated municipalities:
In Total: 7
Occupying a middle ground between incorporated and unincorporated areas are Special Tax Districts, quasi-municipal unincorporated areas created by legislation passed by the Maryland General Assembly.[2] They lack home rule authority and must petition the General Assembly for changes affecting the authority of the district. There are eight Special Tax Districts in the county:
Unincorporated areas are also considered as towns by many people and listed in many collections of towns, but they lack local government. Various organizations, such as the United States Census Bureau, the United States Postal Service, and local chambers of commerce, define the communities they wish to recognize differently, and since they are not incorporated, their boundaries have no official status outside the organizations in question. The Census Bureau recognizes the following census-designated places in the county:
Cresaptown-Bel Air (a combination of the communities of Cresaptown and Bel Air recognized as a unit by the Census Bureau)
Other unincorporated areas include:
Colleges and universities
Edit
Notable residents
Edit
William H. Macy (1950 - ) Macy is an Emmy Award-winning and Academy Award-nominated American actor, known for his role as Jerry Lundegaard in Fargo. He attended Allegany High School. His mother and brother continue to live in Cumberland, where he is a frequent visitor
Sam Perlozzo, former manager of the Baltimore Orioles (2005-2007)
Leo Mazzone, current pitching coach of the Baltimore Orioles and former pitching coach for the Atlanta Braves
Earle "Lefty" Bruce, former head football coach at Ohio State University
Casper R. Taylor, former Speaker of the House in the Maryland House of Delegates
Donald E. Moran, born in Westernport yet residing in Cumberland, former Assistant Coach of the NBA team, Washington Bullets, 1980 - 1986, from 1978 - 1980 Moran was the Head Scout to the NBA team, San Diego Clippers.
Mountains
Edit
The following Mountains are in Allegany County:
Mineral Resources
Edit
The primary mineral resources extracted for use in Allegany County are coal, iron, sandstone, and limestone. Coal bearing formations are concentrated in the Georges Creek Basin in the western part of the county.
References
Edit
External links
Edit
Coordinates: 39°38′N 78°41′W / 39.63, -78.69