Allegany County

,

Maryland


Location in the state of Maryland

Maryland's location in the U.S.
Founded
1789
Named for
the Allegheny Mountains, which run through the western part of the county
Seat
Cumberland
Largest city
Cumberland
Area
 - Total
 - Land
 - Water

429.82 sq mi (1,113 km²)
425.42 sq mi (1,102 km²)
4.40 sq mi (11 km²), 1.02%
Population
 - (2010)
 - Density

75,087
176/sq mi (68.1/km²)
Website
gov.allconet.org
Allegany County is a county located in the northwestern part of the US state of Maryland. It is part of the Cumberland, MD-WV Metropolitan Statistical Area. As of the 2010 census, the population was 75,087.[1] Its county seat is Cumberland. The name Allegany may come from a local Lenape word, welhik hane[2][3] or oolikhanna, which means 'best flowing river of the hills' or 'beautiful stream'.[4] A number of counties in the Appalachian region of the US are named Allegany, Allegheny, or Alleghany.
The western part of Maryland (including the present Allegany County) was originally part of Prince George's County when Maryland was formed in 1696.[5] This county included six current counties, and by repeated splitting, new ones were generated: Frederick from Prince George's in 1748;[6] and Montgomery and Washington from Frederick in 1776.[7]
Allegany County was formed in 1789 by the splitting of Washington County.[8] At the time it was the westernmost county in Maryland, but a split in 1872 produced Garrett County, the current westernmost county.[6]
Prior to 1789, the Virginia Commonwealth claimed the area of present day Garrett and Allegheny Counties, of Maryland. A 1771-1780 map of Virginias counties, shows Hampshire County, but the Virginia State boundary has Hampshire outside that boundary line. When conducting genealogical research, it is possible to find tax records for Hampshire County, Virginia included in Maryland records, and Maryland records in Hampshire County... Hampshire County was formed in 1758 by the Virginia Commonwealth and at its founding, included the present day counties of Garrett & Allegheny Counties in Maryland, and Hardy, Grant, Mineral, and part of Morgan Counties in what is now West Virginia. Ref. Virginia Counties Map of 1771-1780; Henry Howe's 1845 History of Virginia.
The county has a number of properties on the National Register of Historic Places.[9]
It is the birthplace of Emmy Award-winning actress Suzanne Rogers, perhaps best known for her long-running role as Maggie Simmons Horton on NBC's Days of our Lives. Allegany County is often referred to as "Where the South Begins."
Law and government
Edit
Allegany County was granted a home rule form of government in 1974.
Transportation
Edit
Geography
Edit
Allegany County lies primarily in the Ridge-and-Valley Country of the Appalachian Mountains. It is bordered to the north by the Mason-Dixon Line with Pennsylvania, to the south by the Potomac River and West Virginia, to the east by Sideling Hill Creek and Washington County, Maryland, and to the west by a land border with Garrett County, Maryland. The western part of the county contains a portion of the steep Allegheny Front, which marks the transition to the higher-elevation Appalachian Plateau and Allegheny Mountain region. The town of Frostburg is located west of the Front at an elevation of nearly 2,100 feet above sea level, while the county seat of Cumberland, only eight miles away, has an elevation of only 627 feet.
According to the 2000 census, the county has a total area of 429.82 square miles (1,113.2 km2), of which 425.42 square miles (1,101.8 km2) (or 98.98%) is land and 4.40 square miles (11.4 km2) (or 1.02%) is water.[10]
Adjacent counties
Edit
National protected areas
Edit
Significant topographic features
Edit
Major highways
Edit
Demographics
Edit
Historical populations
Census
Pop.
%±
1790
4,809

—

1800
6,303

31.1

%
1810
6,909

9.6

%
1820
8,654

25.3

%
1830
10,609

22.6

%
1840
15,690

47.9

%
1850
22,769

45.1

%
1860
28,348

24.5

%
1870
38,536

35.9

%
1880
38,012

−1.4

%
1890
41,571

9.4

%
1900
53,694

29.2

%
1910
62,411

16.2

%
1920
69,938

12.1

%
1930
79,098

13.1

%
1940
86,973

10.0

%
1950
89,556

3.0

%
1960
84,169

−6.0

%
1970
84,044

−0.1

%
1980
80,548

−4.2

%
1990
74,946

−7.0

%
2000
74,930

0

%
2010
75,087

0.2

%
Est. 2012
74,012

−1.2

%

U.S. Decennial Census[11]
2012 Estimate[12]
According to the 2010 U.S. Census Bureau:
As of the census[13] of 2000, there were 74,930 people, 29,322 households, and 18,883 families residing in the county. The population density was 176 people per square mile (68/km²). There were 32,984 housing units at an average density of 78 per square mile (30/km²). The racial makeup of the county was 93.02% White, 5.35% Black or African American, 0.15% Native American, 0.52% Asian, 0.03% Pacific Islander, 0.19% from other races, and 0.75% from two or more races. 0.76% of the population were Hispanic or Latino of any race. 29.0% were of German, 16.7% US or American, 12.8% Irish, 10.7% English and 5.3% Italian ancestry according to Census 2000.[14]
There were 29,322 households out of which 26.50% had children under the age of 18 living with them, 50.60% were married couples living together, 10.30% had a female householder with no husband present, and 35.60% were non-families. 30.10% of all households were made up of individuals and 15.20% had someone living alone who was 65 years of age or older. The average household size was 2.35 and the average family size was 2.90.
In the county the population was spread out with 20.60% under the age of 18, 11.20% from 18 to 24, 26.80% from 25 to 44, 23.50% from 45 to 64, and 17.90% who were 65 years of age or older. The median age was 39 years. For every 100 females there were 99.20 males. For every 100 females age 18 and over, there were 96.90 males.
The median income for a household in the county was $30,821, and the median income for a family was $39,886. Males had a median income of $31,316 versus $21,334 for females. The per capita income for the county was $16,780. About 9.70% of families and 14.80% of the population were below the poverty line, including 17.70% of those under age 18 and 9.50% of those age 65 or over.
As of 2010, Allegany County had a racial and ethnic population composition of 88.16% Non-Hispanic whites, 8.03% Blacks, 0.14% Native Americans, 0.76% Asians, 0.04% Pacific Islanders, 0.08% Non-Hispanics who reported some other race, 1.47% Non-Hispanics who reported two or more races and 1.44% Hispanics.
Cities and towns
Edit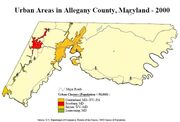 This county contains the following seven incorporated municipalities:
Two cities:
Five towns:
Occupying a middle ground between incorporated and unincorporated areas are Special Tax Districts, quasi-municipal unincorporated areas created by legislation passed by the Maryland General Assembly.[1] They lack home rule authority and must petition the General Assembly for changes affecting the authority of the district. There are eight Special Tax Districts in the county:
Unincorporated areas are also considered as towns by many people and listed in many collections of towns, but they lack local government. Various organizations, such as the United States Census Bureau, the United States Postal Service, and local chambers of commerce, define the communities they wish to recognize differently, and since they are not incorporated, their boundaries have no official status outside the organizations in question. The Census Bureau recognizes the following census-designated places in the county:
Other unincorporated areas include:
Government and infrastructure
Edit
The North Branch Correctional Institution, operated by the Maryland Department of Public Safety and Correctional Services, is located in unincorporated Allegany County, near Cumberland.[15] The prison began housing male death row inmates, who were moved from the Maryland Correctional Adjustment Center, in June 2010.[16] County Government is governed by a 3 member board of County Commissioners
Board of County Commissioners
Position
Name
Affiliation
District
 
President
Michael W McKay
Republican
At-Large
 
Commissioner
Creade Brode
Republican
At-Large
 
Commissioner
William R Valentine
Republican
At-Large
Orphans Court
Position
Name
Affiliation
District
 
Chief Judge
Mark Widmyer
Republican
At-Large
 
Judge
Billie J Gilpin
Republican
At-Large
 
Judge
Donna May
Republican
At-Large
Sheriff
Position
Name
Affiliation
District
 
Sheriff
Craig Robertson
Republican
At-Large
Clerk of the Court
Position
Name
Affiliation
District
 
Clerk of the Court
Dawne D Lindsey
Republican
At-Large
Register of Wills
Position
Name
Affiliation
District
 
Register of Wills
Rebecca D Drew
Republican
At-Large
States Attorney
Position
Name
Affiliation
District
 
States Attorney
Michael O Twigg
Republican
At-Large
Colleges and universities
Edit
Notable residents
Edit
Mountains
Edit
The following Mountains are in Allegany County:
Mineral Resources
Edit
The primary mineral resources extracted for use in Allegany County are coal, iron, sandstone, and limestone. Coal bearing formations are concentrated in the Georges Creek Basin in the western part of the county.
References
Edit
External links
Edit
Coordinates: 39°38′N 78°41′W / 39.63, -78.69
Ad blocker interference detected!
Wikia is a free-to-use site that makes money from advertising. We have a modified experience for viewers using ad blockers

Wikia is not accessible if you've made further modifications. Remove the custom ad blocker rule(s) and the page will load as expected.