Almondsbury is a large village near junction 16 of the M5 motorway, in South Gloucestershire, England.
Description
Edit
The village is split by a steep hill. At the bottom of the hill is Lower Almondsbury where a pub and hotel, The Bowl Inn, is situated.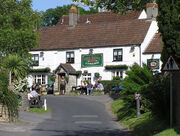 The pub takes its name from the bowl shape of the land surrounding the estuary. Parts of this whitewashed-stone inn were originally the three cottages erected in 1146 to house the monks building the adjacent church of St Mary the Virgin. The present building became a licensed inn in 1550 .
Also at the bottom of the hill is the local church, dedicated to Saint Mary the Virgin.
The church and tower were built in 1140 AD. The lead-covered spire was added some time before 1619.
Another pub, The Swan Inn, is located on the A38, in the upper part of the village, almost opposite an open space known as Almondsbury Tump.
In March 2009 a community shop was opened in the village by the not-for-profit Almondsbury Community Services Association (ACSA). This is situated in the Old School House at 14 Church Road for a two year trial period, and after this time a permanent location must be found. The community shop has a part time manager and deputy, and is staffed by over fifty unpaid volunteers. The aim of the project goes beyond a village shop, being a service for the village, to support local suppliers wherever possible, and to be another focal point where people in the village can meet.
Sporting facilities include football sides Almondsbury Town A.F.C. and Almondsbury F.C., a cricket pitch and a rugby pitch. Almondsbury Tennis Club [1] is on the same site. The village also has a motorway police station, a garden centre, and a restaurant/pub .
South Wales, the Forest of Dean, the River Severn and both Severn Bridges are visible from the higher parts of the village.
Education
Edit
Education is provided by Almondsbury Church of England Primary School. This is a state maintained school. The Ofsted report, dated April 2009, rated the school as good (outstanding in places).
Notable residents
Edit
Almondsbury is the birthplace of Alex Kapranos, the lead singer of Franz Ferdinand.[1]
Notes and references
Edit
External links
Edit
Ad blocker interference detected!
Wikia is a free-to-use site that makes money from advertising. We have a modified experience for viewers using ad blockers

Wikia is not accessible if you've made further modifications. Remove the custom ad blocker rule(s) and the page will load as expected.