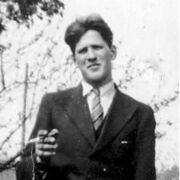 Anders Valter Haglund was born September 21 1915 in Länna, Almunge parish, county Uppland, Sweden.
Sven Johan Haglund, b. Andersson in Ljusseveka, Haga (Värnamo), Sweden Nov 1 1879, d. in Almunge, Uppland Dec 8 1915.
Nanny Amanda Natalia Haglund, b. Sjögren in Ronneby, Sweden Feb 7 1887, d. in Jönköping, Sweden Aug 8 1981.
Edith Dagmar Maria Janulf (1908-2000)
Nils Ragnar (1910-1998)
Gustav Vilhelm (1911-1980)
Cerny Asta Carola (1921-2009), maternal sister.
Anders died on May 28 1976 in Staffan parish, Gävle, county Gävleborg, Sweden. He suffered from cancer which ended his life at the age of 61.
Buried in Skogskyrkogården, Gävle, in grave 'SK07 0731' (grave number 371), where his tombstone in Vångagranit (granite) shows name and date.
Biography
Edit
Anders was only 2,5 months old when his father died in a heart attack on December 8 1915. During the pandemic 'the Spanish flu' 1918-1919 his mother and siblings was sent to different hospitals, while Anders, only 4, was placed in a foster family in Järsnäs near Jönköping, Sweden. He stayed there until he was about 16. He used to call this period miserable, describing exaggerated rigour and even severe maltreatment.
He was sometimes called a 'dreamer' and had a gift for writing, but alas nothing is left from his pen, except some letters to his siblings Edith and Gustav.
At the age of 24 he left his hometown Huskvarna and the job as a manual worker at 'Husqvarna Vapenfabrik'. For some years to come the family heard nothing from him, but he was finally "found " in Gävle, where he worked with forest work. He took up contact with his siblings, but for some reason he almost avoided his mother.
Anders remained unmarried and nothing is now known of his female companions, except for their existance.