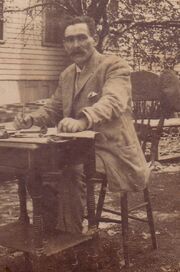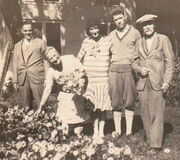 Andrew Havig Jensen (1861-1930) aka Andreas Jensen, was a migrant from Farsund, Norway to Chicago, Illinois in 1882. He was an amateur musician, he sang at his church and was the choral leader and he was also a composer. In Chicago he worked as a plumber and steam pipe fitter at L. Wolf Plumbing. He retired to Williams Bay, Wisconsin where he died in 1930. (b. April 28, 1861, Lister og Mandals amt, Farsund, Vest-Agder, Norway - d. Friday, May 30, 1930, Williams Bay, Walworth County, Wisconsin, 53191, USA)
All of Andrew's siblings were musicians except one:
Farsund, Norway
Edit
The whole family appears in the 1865 Norway Census living in Farsund.
Emigration
Edit
The whole family emigrated to the United States in 1881 after Jens Jacob Hansen, the father, died in Farsund. The year 1881 comes from Andrew in the 1900 United States Census.
Andrew married Lena Olson (1860-1938) aka Hannah Eline Olsdatter, in Chicago on May 12, 1883 under the name "Andreas Jensen" and she was listed as "Lena Olsen" on the marriage certificate. Their marriage certificate number was "71512".
Chicago, Illinois
Edit
Andrew and Lena were members of the Moreland Lutheran Church in Chicago. Andrew appears in the 1910 Chicago City Directory living at 4940 Austin Avenue and working as a steamfitter. Andrew appears in the 1920 US Census, still living at 4940 Austin Avenue.
Williams Bay, Wisconsin
Edit
Around 1925 Lena and Andrew moved to Williams Bay, Walworth County, Wisconsin.
Andrew died in Wisconsin on May 30, 1930.
He was buried on June 2, 1930 in Mount Olive Cemetery, Chicago, Illinois.
Funeral notice
Edit
His obituary funeral noticein the Chicago Tribune and reads as follows: "Andrew Jensen Funeral Rites to be Held Tuesday. Funeral services will be held Tuesday for Andrew Jensen, 4932 Austin Avenue, choral leader and composer who died suddenly Friday at Williams Bay, Wisconsin. He was 69 years old and had lived in Austin for 40 years. He is survived by his widow and eight sons and daughters."
Memories about Andrew Jensen
Edit
External links
Edit
Ancestors
Edit
Ad blocker interference detected!
Wikia is a free-to-use site that makes money from advertising. We have a modified experience for viewers using ad blockers

Wikia is not accessible if you've made further modifications. Remove the custom ad blocker rule(s) and the page will load as expected.