Ad blocker interference detected!
Wikia is a free-to-use site that makes money from advertising. We have a modified experience for viewers using ad blockers

Wikia is not accessible if you've made further modifications. Remove the custom ad blocker rule(s) and the page will load as expected.
Anna Elisabeth von Rohr (1701-1767)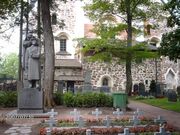 Anna Elisabeth Von Rohr (1701-1767) also written as Vonrohr. (b. January 22, 1700/1701; Kexholm, Sweden (now in Finland) - d. September 07, 1767; på gården Humpis, Nådendal, Åbo, Finland)
She was a descendant of Hans von Rohr (1484-1569) Lord of Freienstien, Meyenburg, Neuhausen, Dremnitz and Leddin
She was born on January 22, 1700/1701 in Kexholm, Sweden. The county was ceded to Sweden by Russia together with Ingria by the Treaty of Stolbovo in 1617. It is now part of Finland.
Prisoner of War
Edit
She was taken prisoner along with her father at the Battle of Poltava in the Ukraine. All captured military officers and their families were sent to Solikamsk, Perm, Russia.
There she met Anders Örbom I (1675-1740), a captain, who was also a prisoner and they married in September of 1719 and had their first child: Anders Örbom II (1720-1783) in Siberia.
They had the following children when they returned to Sweden:
She died on September 08, 1767 in Åbo, Finland. She was buried in the church yard in Naantali, Finland.
Relationship
Edit
Anna Elisabeth Von Rohr (1701-1767) was the sixth, great-grandmother of Richard Arthur Norton (1958- ).
Ancestors
Edit
§ This line goes back 500 years in Scotland