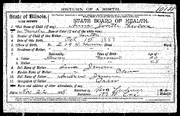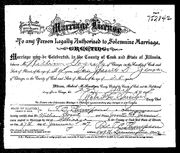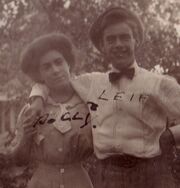 Anna Josette Theodora Jensen (1890-1940) aka Dolly Jensen, aka Josette Dorothy Jensen; Housewife (b. October 01, 1888, Chicago, Cook County, Illinois, USA - d. March 27, 1940, Chicago, Cook County, Illinois, USA)
She was born on October 1, 1888 in Chicago, Illinois as "Anna Josette Theodora Jensen". Her father was working as a baker at the time.
Dolly married William Joseph Gogerty (1893-1939) who was an accountant at the Bell Telephone Company.
They had two children:
Memories about Dolly Jensen
Edit
Daisy Lorraine Holm (1926- ) writes: "Her husband died of a heart attack and she died a year later of a broken heart."
Josette's obituary was published in the Chicago Tribune and reads as follows:
Josette Gogerty, nee Dody [sic], March 27, 1940, of 1321 Touhy Avenue, wife of the late William J., mother of Donald P., and Dorothy H., sister of Mrs. Louise Hemwall, Mrs. Daisy Woods, Mrs. Goldie Holm, Mrs. Eleanore Shanahan, Leif, Leonard, and Alvin Jensen. Resting at funeral home, 318-320 North Central Avenue, Austin. Funeral Saturday, 1:30 p.m. Interment All Saints.
Josette died in 1940 and her Illinois death certificate number was "9504"
She was buried at All Saints Cemetery.