Anson Freeze
Sex:
Male
Birth:
13 Nov 1821 Penobsquis, Kings, NB, Can.
Death:
30 Mar 1899 Havelock, Kings, N.b
Father:
Charles Freeze (1793)
Mother:
Susannah McCready
Spouse/Partner:
Frances Miller (1821) [1]
Marriage:
1 Feb 1848 , N.b., Canada
Anson Freeze
Registered as a farmer, Free Will Baptist. Widowed at 58.
Documentation notes
Edit
Wilford Freeze (1848) Wilford H. Freeze Birth: 19 DEC 18 1948
Hartford O. Freeze Birth: 24 Apr 1851 Death: 7 Apr 1873
Willard A. Freeze Birth: 19 Sep 1852 Death: 13 Mar 1929 Santa Barbara, , Ca.

Spouse: Cora E. Watson Marriage: Abt 1872 N.b., Canada

Alveretta Freeze Birth: 18 Jun 1854 Death: 1856 Havelock.
Almina Jane Freeze Birth: 16 Feb 1856 Death: 4 Jan 1938 Pownal, Cumberland Co., Maine

Spouse: Asa Harding Keith Marriage: 24 Oct 1883 Havelock
Trueman Freeman Venning Freeze Birth: 19 Oct 1857 Havelock, Kings, N.b. Death: 15 Jul 1945 Probably. Sask., Canada

Spouse: Mary Keith Marriage: 24 May 1882 N.b., Canada

Munro A. Freeze Birth: 16 Jul 1859 Havelock, Kings, N.b. Death: 10 Apr 1937 Hartford, , Conn. Burial Cedar Hill Cem., Hartford, Conn.

Spouse: Flora Rebecca Stiles Marriage: 15 Jun 1886 N.b., Canada

Harvey Freeze died Birth: Abt 1860 Havelock Death: Abt 1865
Tagged as Ancestry from Scotland because it seems to be generally thought that the McCready family got to Ireland when Cromwell's army went.
Unless otherwise noted, all info here is derived from Familysearch.com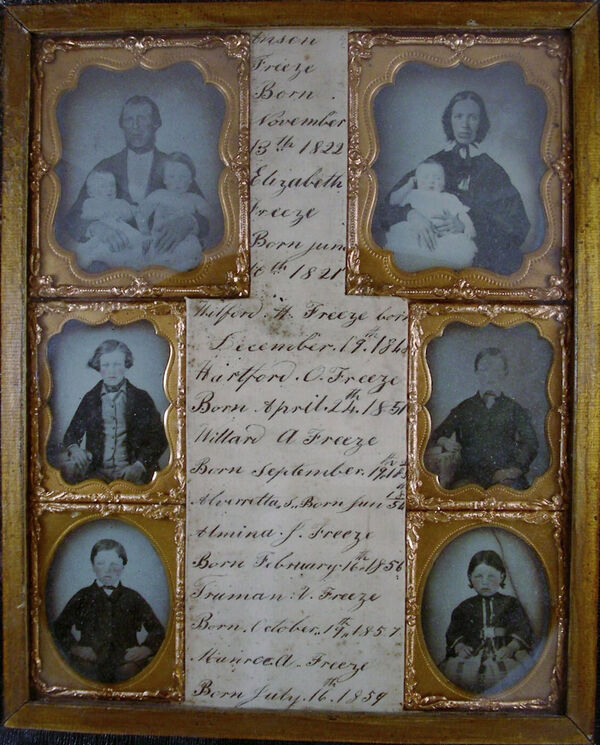 Essential information on this individual has not been located; therefore this article needs attention. Feel free to edit this page to help everyone learn more about this person.

Please obey Copyright; do not copy material except bare facts from other sources without permission. Acknowledge sources.
References
Edit
^

"Frances" Elizabeth birth is (June 10th, 1821) according to family photo

^

famsearch record 1375816