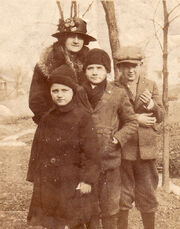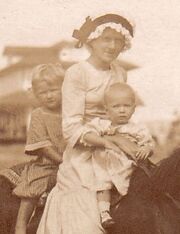 Anthony LeRoy Winblad (1912-1970) aka Roy Winblad. He was a waiter at a restaurant. (b. September 09, 1912, Santa Bárbara, Isle of Pines, Cuba - d. September 25, 1970, 1812 Hoyt Avenue, Long Island City, Bronx County, New York City, New York, USA) Social Security Number 089037336.
Roy was born in 1912 near Santa Barbara on the Isle of Pines, Cuba. His parents had joined the migration of people to the Isle of Pines speculating that it would become a new state in the United States.
Isle of Pines
Edit
His parents and grandparents had bought a plantation in Cuba around 1910 and speculated that the Isle of Pines might become a state in the United States. The family returned from Cuba in 1914 after Anton's father and mother died on a trip to Farsund, Norway.
Bronx, New York
Edit
In 1920 the family was living at 163 East 144th Street in the Bronx and Roy appears in the census under the name "Anthony L. Winblade". In 1930 the family was living at 422 Mott Avenue in the Bronx, and Anton was working in a plumbing supply store.
Roy married Ann Maria Zorovich (1912-1993) on July 08, 1934 at the First Methodist and Episcopalian Church in Astoria, Queens. Ann had been married before and Roy was working at a restaurant at the time of the marriage. He was living at 390 Grand Concourse in the Bronx. Their Queens marriage certificate was number "2854" and he is listed as "Leroy Winblad".
They had four children, including:
Ann Zorovich gave birth to a fifth child, a son, but Roy was not the father.  Paternity of the child is unknown. The child may have been put up for adoption at birth.   Ann and Roy divorced after this.  Ann married a Steve Karas (1923- ) aka Stephen Karakitsos, on July 27, 1957 in Astoria Queens, New York.
He died in 1970 while living at 1812 Hoyt Avenue, Long Island City. He had been depressed for a long time and was drinking heavily.
He was buried in Powell Cemetery, Hempstead, New York.
Memories about Roy Winblad
Edit
Uncompleted tasks
Edit
Some family members have said the baby lived and was adopted.
External links
Edit
Ancestors
Edit
Ad blocker interference detected!
Wikia is a free-to-use site that makes money from advertising. We have a modified experience for viewers using ad blockers

Wikia is not accessible if you've made further modifications. Remove the custom ad blocker rule(s) and the page will load as expected.