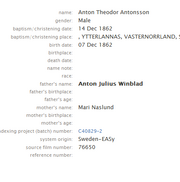 Lieutenant Anton Teodor Winblad (1862-?) was a lieutenant in Swedish Army. (b. December 7, 1862; Sweden - d. unknown; Sweden)
Relationship
Edit
Anton Teodor Winblad (1862-?) was the great-granduncle of Richard Arthur Norton (1958- ).
Ingrid Karlsson, the archivist for the Krigsarkivet, in letter 422-2008/1988 wrote: "In the Swedish Army Roll (Svenska arméns rulla) 1897 there is no Anton Teodor Winblad (1862-?) but there is a lieutenant at Västernorrlands regemente (The Regiment of Västernorrland) called Johan Teodor Albert Israel Winblad born 21st of February 1871. He became a sub lieutenant 24th of November 1893 and lieutenant 9th of November 1894.
Tomas Andersson (1973) on September 30, 2003 wrote: "Anton Theodor Winblad, born December 7, 1862 in Prästbordet, Ytterlännäs, Västernorrland. Found him by accident moving to Härnösand from Adolf Fredrik parish, Stockholm in 1896. He was a Lieutenant at the time, probably in the Marine. Could not find him later."