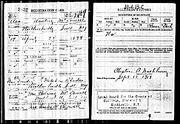 Asa Austin McDowell (1899-1958) aka Acey McDowell; was a painter at the state facility in Otisville where smallpox vaccine was made (b. April 24, 1899, Westbrookville, Sullivan County, New York, 12785, USA - d. July 03, 1958, Westbrookville, Sullivan County, New York, 12785, USA) Social Security Number 055269069.
Asa had the following siblings: Ziby Francis McDowell (1880-?) who married Angeline Josephine Millspaugh (1888-1946); William Nathan McDowell (1881-1966) who married Mary F. Benedict (1887-?) and later married Margaret (Mae) Piatt (1879-1952); Oscar Olander McDowell (1883-1965) who married Elsie Evelyn Peterson (1886-1974); Viola Catherine McDowell (1884-1960) who married Archibald Reed Page II (1876-1945); Orrin Lafayette McDowell (1887-1947) who married Victoria Hubbard (1884-1950); Olive Affoyett McDowell (1887) who died as an infant; Edward Levi McDowell (1890-1984) who married Helen E. Sarine (1896-1969); Chalania Alvira McDowell (1892-1966) who married Harry M. McBride I (1886-1959); Harry Chester McDowell (1896-c1900) who may have died as an infant; Vincent Milton McDowell (1896-1972) who married Margaret Amanda Libolt (1905-1991); and Otto (Stan) Stanley McDowell (1906-1965) who married Jeanette McLean (1907-1987).
World War I
Edit
Asa registered for the draft on September 12, 1918 as "Asa Austin McDowell".
He married Merle McCarter (1903-2001) on May 21, 1921.
Asa and Merle had the following children: Charlotte McDowell (1922-2003) who married Joseph Thomas DePace; and Sherman McDowell (1924- ).
Ad blocker interference detected!
Wikia is a free-to-use site that makes money from advertising. We have a modified experience for viewers using ad blockers

Wikia is not accessible if you've made further modifications. Remove the custom ad blocker rule(s) and the page will load as expected.