Băneasa, Constanţa
Talk

0
136,650pages on
this wiki
Băneasa (Romanian pronunciation: [bəˈne̯a.sa], historical name: Parachioi, Turkish: Paraköy) is a town in Constanţa County, Romania.
Administration
Edit
The following villages are also administered by the town:
The former village of Cărpiniş (historical name: Ghiuvegea) was merged with the town of Băneasa (at the time a village) by the 1968 administrative reform.
The town also administered the village Valea Ţapului (historical name: Turkish: Teke-Deresi), located at 43°58′39″N 27°43′35″E / 43.977622, 27.726374, which was disestablished by Presidential Decree in 1977.[3][4]
Demographics
Edit
At the 2002 census, Băneasa had 4374 Romanians (81.8%), 963 Turks (18%), 14 Roma (0.2%) and 2 others. At the 2011 census, Băneasa had 3538 Romanians (70.52%), 1145 Turks (22.82%), 332 Gypsies (6.61%) and 2 others.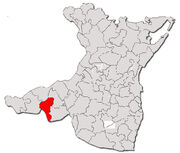 References
Edit