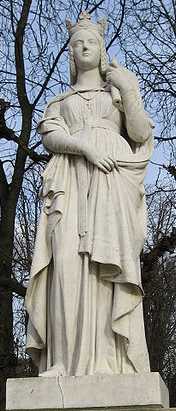 Saint Balthild of Ascania, born 626 or 627, died January 30, 680), also called Bathilda, Baudour, or Bauthieult,[2] was the wife and queen of Clovis II, king of Burgundy and Neustria (639 – 658).
De heilige Bathildis (626 - Chelles, 30 januari 680) was als Angelsaksische geboren, maar werd door de oprukkende Denen als slaaf verkocht aan Erchinoald, de hofmeier van de Merovingische koning Clovis II MEROVINGIAN (bet623and630-657). Zij won daar niet alleen het hart van haar mededienstboden, maar ook dat van de koning zelf. In 649 huwden Clovis II en Bathildis met elkaar. Het paar kreeg drie zonen: de latere koningen Chlotar III, Childerik II en Theuderik III
Ad blocker interference detected!
Wikia is a free-to-use site that makes money from advertising. We have a modified experience for viewers using ad blockers

Wikia is not accessible if you've made further modifications. Remove the custom ad blocker rule(s) and the page will load as expected.