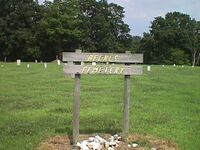 Beckes Cemetery in
Knox County, Indiana
is off the road on private land and can be found by taking SR67 North to Bicknell. In Bicknell, turn right on Main Street; left on SE300S; 0.4 miles turn right at the stop sign; 1.2 miles turn left (changes from blacktop to gravel road); 0.5 miles stop & park. Cross the field on the right to the top of the hill to find the cemetery. It is about a 1/4 mile off the road.
Ad blocker interference detected!
Wikia is a free-to-use site that makes money from advertising. We have a modified experience for viewers using ad blockers

Wikia is not accessible if you've made further modifications. Remove the custom ad blocker rule(s) and the page will load as expected.