Captain Benjamin Chapman
was born
1621
in
Hinckley
,
Leicestershire
,
Ireland
to
William Chapman (1592-)
.
Captain Benjamin Chapman (b1621) - Patriarch to the Chapman Baronets of Killua Castle in County Westmeath, Ireland. His father was maternal cousin to Sir Walter Raleigh? The castle was built by the Knights Hospitallers?
Vital Statistics
Son of William Chapman (1592-) (born in Kerry, Ireland)
1621 : Birth - Hinckley, Leicestershire, Ireland
1649-53 : Cromwell Conquest of Ireland
Biography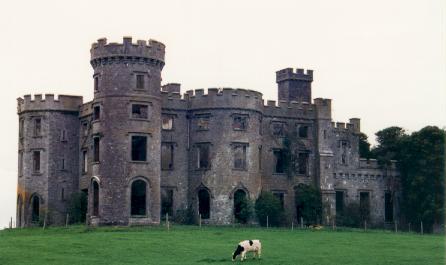 Chapman was a Cornet in the regiment of cavalry raised by Murrough O'Brien, 1st Earl of Inchiquin. He was later promoted to Captain, and served in the Cromwellian conquest of Ireland. After the conquest, Oliver Cromwell granted Chapman an estate in the county of Westmeath, at Killua (also known as St. Lucy's), a former preceptory of the Knights Hospitallers.
Chapman married Anne, daughter of Robert Parkinson (esq. of Ardee). They had two sons, William and Thomas. William remained with his father at St. Lucy's and married Ismay, daughter of Thomas Nugent (esq. of Clonlost). Thomas emigrated to America.
Chapman's father, William, and uncle, John, had been supported by their maternal first cousin, Sir Walter Raleigh, who helped them procure land grants in the County Kerry. Due to financial troubles and their patron Raleigh's death in 1618, they were forced to sell the land to Richard Boyle, 1st Earl of Cork, for £26,400. Benjamin was William's only son.
Marriage & Family
William Chapman (1647-1734) - Res: Killua Castle Ireland, m. Ismay Nugent, daughter of the esquire of Clonhost, d. 1734.
Thomas Chapman (1649-1687) - Immigrated to New England prior to Sept 1675 when he married in Charlestown, MA to Sarah Merrick.
Note evidence found to support listings for any other children
Children
Siblings
References
Burke, John. A General and heraldic dictionary of the peerage and baronetage of the British Empire. London: H. Colburn and R. Bentley. pp. 229.
Namesakes of Benjamin Chapman (1621-)
| | | | | | |
| --- | --- | --- | --- | --- | --- |
| Benjamin Chapman (1621-) | Hinckley, Leicestershire, Ireland | Ireland | William Chapman (1592-) | | |
| Thomas Chapman (1701-1793) | Ashford, Windham County, Connecticut, United States | Ashford, Windham County, Connecticut, United States | Thomas Chapman (1683-1721) | Ann Kettell (1679-1767) | Mary Throop (1707-1795) |
| Thomas Chapman (1683-1721) | Charlestown, Suffolk County, Massachusetts | Bristol, Bristol County, Rhode Island | Thomas Chapman (1649-1687) | Sarah Merrick (1657-1694) | Ann Kettell (1679-1767) |
| Thomas Chapman (1649-1687) | Killua Castle, County Westmeath, Republic of Ireland | Charlestown, Suffolk County, Massachusetts, United States | Benjamin Chapman (1621-) | Anne Parkison (c1622-) | Sarah Merrick (1657-1694) |
| Thomas Dark Chapman (1855-1930) | St Albans, New South Wales, Australia | Chatswood, New South Wales, Australia | William George Chapman (1814-1883) | Elizabeth Dark (c1821-1905) | Harriett Gilbert (1861-1883)+Fannie Warburton (c1866-1942) |
Footnotes (including sources)
Contributors