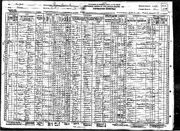 Bessie Greenstein (1888-1981) Housewife (b. December 10, 1888; Russia - d. May 1981; Middle Village, Queens County, New York City) Social Security Number 054520418.
Social Security uses the birth date of December 10, 1888, however the 1930 census listed her as born in 1891. 1888 comes from the oral family tradition, since she had no birth certificate. She was born in Russia.
Emigration
Edit
Bessie emigrated in 1892 from Russia.
She married Harry D. Klein (1885-1945) on March 12, 1911 in Manhattan. Their certificate was number "6256".
She died on May 08, 1981 and was buried on May 10, 1981 in grave ROAD-37R in Mount Zion Cemetery.
External link
Edit
Ad blocker interference detected!
Wikia is a free-to-use site that makes money from advertising. We have a modified experience for viewers using ad blockers

Wikia is not accessible if you've made further modifications. Remove the custom ad blocker rule(s) and the page will load as expected.