Broome County

,

New York


Location in the state of New York (state)

New York's location in the U.S.
Founded
1806
Seat
Binghamton
Area
 - Total
 - Land
 - Water

715 sq mi (1,852 km²)
707 sq mi (1,831 km²)
9 sq mi (23 km²), 1.21%
Population
 - (2010)
 - Density

200,600
284/sq mi (109.5/km²)
Website
www.gobroomecounty.com
Broome County is a county located in the U.S. state of New York. As of the 2010 census, the population was 200,600. It was named in honor of John Broome, who was lieutenant governor in 1806 when Broome County was established. Its county seat is Binghamton, which is also its major city. The current county executive is Debra A. Preston. Broome County is also home to Binghamton University, one of four university centers in the SUNY system.
Broome County is part of the Binghamton Metropolitan Statistical Area.
When counties were established in the Province of New York in 1683, the present Broome County was part of Albany County. This was an enormous county, including the northern part of New York State as well as all of the present State of Vermont and, in theory, extending westward to the Pacific Ocean. This county was reduced in size on July 3, 1766 by the creation of Cumberland County, and further on March 16, 1770 by the creation of Gloucester County, both containing territory now in Vermont.
On March 12, 1772, what was left of Albany County was split into three parts, one remaining under the name Albany County. One of the other pieces, Tryon County, contained the western portion (and thus, since no western boundary was specified, theoretically still extended west to the Pacific). The eastern boundary of Tryon County was approximately five miles west of the present city of Schenectady, and the county included the western part of the Adirondack Mountains and the area west of the West Branch of the Delaware River. The area then designated as Tryon County now includes 37 counties of New York State. The county was named for William Tryon, colonial governor of New York.
In the years prior to 1776, most of the Loyalists in Tryon County fled to Canada. In 1784, following the peace treaty that ended the American Revolutionary War, the name of Tryon County was changed to Montgomery County in honor of the general, Richard Montgomery, who had captured several places in Canada and died attempting to capture the city of Quebec, replacing the name of the hated British governor.
In 1789, Montgomery County was reduced in size by the splitting off of Ontario County. The actual area split off from Montgomery County was much larger than the present county, also including the present Allegany, Cattaraugus, Chautauqua, Erie, Genesee, Livingston, Monroe, Niagara, Orleans, Steuben, Wyoming, Yates, and part of Schuyler and Wayne Counties.
In 1791, Tioga County split off from Montgomery County, along with Herkimer and Otsego Counties. Tioga County was at this time much larger than the present county and included the present Broome and Chemung Counties and parts of Chenango and Schuyler Counties.
In 1798, Tioga County was reduced in size by the splitting off of Chemung County (which also included part of the present Schuyler County) and by the combination of a portion with a portion of Herkimer County to create Chenango County.
In 1806, the present-day Broome County was split off from Tioga County.
Geography
Edit
Broome County is located in south-central New York State, directly north of the border with Pennsylvania in a section of the state called the Southern Tier. The Chenango River joins the Susquehanna River, which flows through the county.
The western half of the county is hilly but has wide valleys that accommodate Binghamton and its suburbs. In the northern portion Interstate 81 takes advantage of another glacial valley. To the east, however, the terrain becomes much more rugged as the land tilts up to the Catskills.
The highest elevation is a U.S. National Geodetic Survey benchmark known as Slawson atop an unnamed hill in the Town of Sanford. It is approximately 2,080 feet (634 m) above sea level. An area due east on the Delaware County line in Oquaga Creek State Park also lies within the same elevation contour line. The lowest point is 864 feet (263 m) above sea level, along the Susquehanna at the Pennsylvania state line.
According to the U.S. Census Bureau, the county has a total area of 715 square miles (1,851.8 km2), of which 707 square miles (1,831.1 km2) is land and 9 square miles (23.3 km2) (1.21%) is water.
Adjacent counties
Edit
Major highways
Edit
Demographics
Edit
Historical populations
Census
Pop.
%±
1810
8,130

—

1820
14,343

76.4

%
1830
17,579

22.6

%
1840
22,338

27.1

%
1850
30,660

37.3

%
1860
35,906

17.1

%
1870
44,103

22.8

%
1880
49,483

12.2

%
1890
62,973

27.3

%
1900
69,149

9.8

%
1910
78,809

14.0

%
1920
113,610

44.2

%
1930
147,022

29.4

%
1940
165,749

12.7

%
1950
184,698

11.4

%
1960
212,661

15.1

%
1970
221,815

4.3

%
1980
213,648

−3.7

%
1990
212,160

−0.7

%
2000
200,536

−5.5

%
2010
200,600

0

%
Source[1][2]
As of the census[3] of 2000, there were 200,536 people, 80,749 households, and 50,225 families residing in the county. The population density was 284 people per square mile (110/km²). There were 88,817 housing units at an average density of 126 per square mile (49/km²). The racial makeup of the county was 91.33% White, 3.28% Black or African American, 0.19% Native American, 2.79% Asian, 0.03% Pacific Islander, 0.79% from other races, and 1.59% from two or more races. 1.99% of the population were Hispanic or Latino of any race. 16.1% were of Irish, 13.3% Italian, 12.3% German, 11.6% English, 6.4% American and 5.7% Polish ancestry according to Census 2000 [2]. 91.4% spoke English, 2.0% Spanish and 1.1% Italian as their first language.
There were 80,749 households out of which 28.20% had children under the age of 18 living with them, 47.60% were married couples living together, 10.80% had a female householder with no husband present, and 37.80% were non-families. 31.00% of all households were made up of individuals and 12.40% had someone living alone who was 65 years of age or older. The average household size was 2.37 and the average family size was 2.97.
In the county the population was spread out with 23.00% under the age of 18, 11.00% from 18 to 24, 26.80% from 25 to 44, 22.80% from 45 to 64, and 16.40% who were 65 years of age or older. The median age was 38 years. For every 100 females there were 93.20 males. For every 100 females age 18 and over, there were 89.90 males.
The median income for a household in the county was $35,347, and the median income for a family was $45,422. Males had a median income of $34,426 versus $24,542 for females. The per capita income for the county was $19,168. About 8.80% of families and 12.80% of the population were below the poverty line, including 15.90% of those under age 18 and 7.20% of those age 65 or over.
Government and politics
Edit
Broome County's offices are housed in the Edwin L. Crawford County Office Building of Government Plaza located at 60 Hawley Street in Downtown Binghamton.
Executive
Edit
Legislature
Edit
The Broome County Legislature consists of 19 members.[4] All nineteen members of the legislature are elected from individual districts. Currently, there are 12 Republicans and 7 Democrats.
Broome County Legislature

| District | Legislator | Title | Party | Residence |
| --- | --- | --- | --- | --- |
| 1 | Mark D. Whalen | Minority Leader | Democrat | Binghamton |
| 2 | Joseph A. Merrill | | Democrat | Binghamton |
| 3 | Jason Garnar | | Democrat | Binghamton |
| 4 | Joseph Sanfilippo | | Democrat | Binghamton |
| 5 | John Hutchings | | Democrat | Binghamton |
| 6 | Julie A. Lewis | | Republican | Vestal |
| 7 | Marchie Diffendorf | | Republican | Kirkwood |
| 8 | Wayne L. Howard | Majority Leader | Republican | Fenton |
| 9 | Stephen Herz | | Democrat | Windsor |
| 10 | Jerry Marinich | Chairman | Republican | Chenango |
| 11 | Ronald Keibel | | Republican | Whitney Point |
| 12 | Michael Sopchak | | Republican | Johnson City |
| 13 | Matthew Pasquale | | Republican | Endicott |
| 14 | David M. Jensen | | Republican | Endicott |
| 15 | Michael Schafer | | Republican | Endicott |
| 16 | John A. Black | | Republican | Endicott |
| 17 | Ron Heebner | | Republican | Johnson City |
| 18 | Daniel J. Reynolds | | Republican | Vestal |
| 19 | Daniel D. Reynolds | | Democrat | Vestal |
Cities, towns, and villages
Edit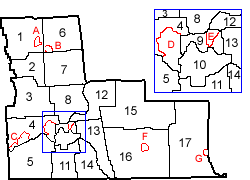 Official political designation is shown in parentheses.
Education
Edit
The three primary institutes of higher education in Broome County include:
Notable natives, residents, and past residents
Edit
John Allen, noted dentist and inventor of new denture method[5]
Percival Borde, modern dancer, choreographer
Norman F. Cantor, world historian, author, editor, lecturer
Jean Casadesus, classical pianist
Cynthia Clarey, opera soprano, Deutsche Opera Berlin
Richard Deacon, actor, "Dick Van Dyke Show", "Leave it to Beaver", "Hello, Dolly!"
Daniel S. Dickinson, mid-19th century U.S. Senator, historic "Defender of the Constitution" prior to Civil War
Adrian Bryce Diorio Founder & CEO of BRYCE™ INTERNATIONAL, parent company of BRYCE™ ORGANICS. Vestal native and Vestal Senior High School graduate.
Mike Dunham, former NHL goaltender and now current New York Islanders goalie coach
Henry B. Vestal, industrialist, co-founder of Vestal-Johnson Co.
Exterminator, "Old Bones", thoroughbred race horse, Kentucky Derby winner 1918, horse of the year 1922, #27 in Top 100 U.S. race horses of the 20th century, in ancestral line of Secretariat and Seattle Slew
Jake Gardner, opera tenor, Cologne Opera, Vienna State Opera
John Gardner, modern American novelist, essayist, critic, lecturer, October Light, Sunlight Dialogues, Grendel
Kenny Brown, a political activist who has spoken at rallies and events in multiple major US cities, which include Washington, DC and Denver, CO
The Guarnieri Quartet, classical string ensemble
Robert Harpur, colonial teacher, politician, pioneer, for whom Harpur College was named
Johnny Hart, cartoonist, creator of B.C. and co-creator of The Wizard of Id
George F. Johnson, industrialist, philanthropist, co-founder of Endicott-Johnson Co.
Bill T. Jones, modern dancer, dance company founder, choreographer, Tony Award winner: "Spring Awakening"
Jack Keely, illustrator, cartoonist, author, "Grossology"
Alfred Joyce Kilmer, poet: "Trees and Other Poems"
Willis Sharpe Kilmer, early 20th-century industrialist and entrepreneur History of the City of Binghamton, Life & Times Part 1, Life & Times Part 2,
Richard Leach, opera tenor, Metropolitan Opera, La Scala
Edwin A. Link, inventor, visionary, entrepreneur, industrialist, Link Aviation, Harbor Branch Foundation
David Ross Locke, journalist and early political commentator during the American Civil War
Ron Luciano, American League baseball umpire, author
Billy Martin, New York Yankees second baseman and manager
Leonard Melfi, poet, screenwriter, author, playwright: Oh! Calcutta!
Loften Mitchell, playwright: Broadway hit Bubbling Brown Sugar, 1999 Paul Robeson Award winner
Pat Monforte, Tony Monforte, Vic Fontaine, jazz musicians
Hidy Ochiai, karate and judo grand master, author, actor
Elmar Oliveira, classical violinist, only American violinist winner Moscow's Tchaikovsky International Competition
Camille Paglia, philosopher, author, editor, lecturer, intellectual provocateur
Anthony J. Milasi and Roger D. Brooks, famous identical twins separated at birth, then reunited after 25 years.
Paul Reiser, actor, comedian, Aliens, Mad About You
Amy Sedaris, actress, author, playwright
David Sedaris, comedian, essayist, playwright
Rod Serling, screenwriter, playwright, most famous for his science fiction anthology television series The Twilight Zone
Jack Sharkey, born Joseph Paul Cukoschay, world heavyweight boxing champion, 1931–33
Richard Stack, founder Dick's Sporting Goods, world's largest sporting goods chain [6]
Thomas J. Watson, industrialist, founder, IBM Corp.
Scott Coolbaugh, professional baseball player: Texas Rangers, San Diego Padres
Mike Coolbaugh, professional baseball player: Milwaukee Brewers, St. Louis Cardinals, Minor League baseball coach
James M. Dutcher, Chair - SUNY Council of CIOs 2010-2012 SUNY, State University of NY, IT Executive
External links
Edit
References
Edit
Municipalities and communities of

Broome County, New York

,

United States

City

Towns
Villages
CDPs
Other
hamlets
Footnotes

‡This populated place also has portions in an adjacent county or counties
Coordinates: 42°10′N 75°49′W / 42.16, -75.82
Ad blocker interference detected!
Wikia is a free-to-use site that makes money from advertising. We have a modified experience for viewers using ad blockers

Wikia is not accessible if you've made further modifications. Remove the custom ad blocker rule(s) and the page will load as expected.