Ad blocker interference detected!
Wikia is a free-to-use site that makes money from advertising. We have a modified experience for viewers using ad blockers

Wikia is not accessible if you've made further modifications. Remove the custom ad blocker rule(s) and the page will load as expected.
Burdujeni is a district of the city of Suceava in Romania.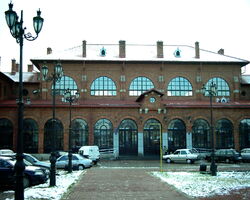 The locality was created in the 16th century, around the Todireni Monastery and was called Todireni. In the 17th century the historian Miron Costin became the landowner of the locality, and developed it by moving many of the laborers from the village of Burdujeni, in the Soroca district, where he was district administrator.
After the occupation of Bucovina by the Austrian Empire in 1775, Burdujeni became the border town between Austria and Moldova. The locality developed fast and in 1860 had become the 35th largest urban locality of Moldova.
Initially part of the Botoşani County, the city was transfered to Suceava County in 1926.
In 1956, the city of Burdujeni was merged with the city of Suceava, becoming a district of this city. It developed mainly into an industrial district.
References
Edit
Monografia comunei Burdujeni – Elena Costache Găinariu
Călăuza CFR pentru anul 1913 de ing. Stelian Petrescu
Anuarul ilustrat CFR- din 1915
Suceava sub povara istoriei – Ion Drăgușanul
Monografia comunei Burdujeni – Elena Costache Găinariu
Călăuza CFR pentru anul 1913 de ing. Stelian Petrescu
Anuarul ilustrat CFR- din 1915
Suceava sub povara istoriei – Ion Drăgușanul
Born in Burdujeni
Edit
Married in Burdujeni
Edit
Died in Burdujeni
Edit