Calvin Messerly
At age 17, Calvin enlisted and was assigned to Company K, Seventeenth Ohio Volunteer Infantry on 14 September 1861. The original strength of the 17th was 852 men and they trained at Camp Dennison, OH. Calvin was first a flag bearer but later carried a gun rather than the colors.[1][2][3] On 20 September 1863 at the rank of private, he was killed[4] at the Battle of Chickamauga in Georgia where the Army of the Cumberland under Rosecrans was defeated with 16,000 casualties. There are other primary sources that corroborate the Ohio Roster Commission's report that his death was on the 20th. The commander of his battalion, John Connell reported no deaths on the 19th for his unit, the Seventeenth Ohio, but reported 17 killed on the twentieth. At the time of the battle, his chain of command was:
Army of the Cumberland under William Rosecrans

XIV Corps under Maj. General George Henry Thomas

3rd division under Brig. Gen. John M. Brannan

Brigade 1 under Colonel John M. Connell

The Seventeenth Ohio regiment under Lt. Col Durbin Ward
The Ohio Roster shows that one other of Calvin's company also died at Chickamauga: John W. Shaw (about 20 years).
Shenanigans at Crab Orchard, Kentucky
Calvin was involved in procuring cherry bounce wine and molasses from a Kentucky warehouse. Others also had participated, but Calvin had the misfortune of being caught.
"In 1861 while we lay at Crab Orchard, KY in an old ware house, or hotel, the boys found two or three barrels of molasses and one of cherry bounce, in the cellar. Some made several trips for themselves and friends, to the cellar for wine and molasses and as they had to crawl through a window in the cellar to get to it, more or less molasses was spilled on the window sill, which daubed the boys up considerably. The owner of the wine and molasses complained to General Albin Schoepf (1822), commander of our brigade. While he was investigating the matter he saw Calvin Messerly, company K besmeared from head to foot. The German (sic. - Schoepf was Polish) officer said to him. "Where you got dot molasses? Look me in the eye, you beeze a thief; you beeze a thief at home." then giving him a slap on the side of the head, put him in the guard house. He then gave orders for all Captains to have their companies fall in line and report to him all who took molasses or wine. Captain Stinchcomb, company B in a loud voice, commanded his company to fall in. The boys did not know what was up,but obeyed some of us having molasses on our whiskers and clothes. The Captain nearly laughing said," Company B, it has been reported to me that some boys in our regiment have been stealing cherry bounce and molasses out of the cellar below us and it is my duty to see if any of my boys have." He then commanded, "All you boys who stole any of that molasses or wine step two paces to the front." Not one stepped out. Then smiling he said, "That's right I'm glad none of my boys stole any. Go to your quarters. "[8]
Battle of Chickamauga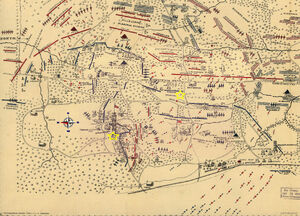 Calvin most likely died on the edge of Poe field between 11:15AM and noon on the 20th during the defense of Thomas's right flank when Confederate General
James Longstreet (1821)
attacked just as a quarter mile gap was created in the federal line.
There are 4 possibilities for Calvin's death. In descending order of likelihood:
11:30 In the counterattack by the 17th that Captain Church of the 4th Michigan called a "slaughter". Of the 200 rallied men, only 52 remained to withdraw to Horseshoe ridge.
11:15 At the edge of Poe field where the 17th was first attacked by Perry's 44th Alabama.
12:00 PM to 7PM At Horseshoe ridge, where the 17th repelled assaults from half of Bragg's army on the ridge
Died in Captivity? Calvin could have been one of the 18 missing, presumed captured. Calvin could have died in captivity. Of the 46 men of the 21st Ohio that were captured and eventually were sent to Andersonville prison, only ten survived.
Discussion of theories
Only Church's regimental report is in the records, so we have to rely on conjecture about what likely happened on the 20th.
11:15 The 17th fell back after what Connell described as just a few moments when the 44th simultaneously hit their front and their right flank, with a volley from 75 yards. It would be hard for an opponent to get a good shot against troops behind breastworks at that range, especially with the dust and gunsmoke raised of the volleys of the 17th and 4th Michigan. Both Church and Connell mention casualties that the 82nd took when they stormed the breastworks, but neither mention the 17th taking heavy casualties at the first engagement. Ward may have in fact ordered the regiment to fall back since the 17th was blocking the Michigan 4th from firing towards the path of the attackers. It's not hard to see how the unit became disorganized as they collided with Sam Beatty's regiment waiting to their rear. We don't know because none of the regimental reports for brigade one other than Church's have been found- a fact that Colonel Hunter of the 82nd complained about.[9] What we do know is that Beatty's group was also in the woods to the rear of the 82nd, was organized and not even in retreat, but it also quickly fell into disorder. Commanders from both sides had difficulty with organization, with remarks in the reports that they could not see more than 50 yards in the woods. With the din of nearby battle, individuals could not find their units. So just prior to 11:30, the 17th is interleaved with Beatty's mob which is moving north, Church's artillery that the regiment had been protecting is moving west along with Connell, and Stinchcomb and possibly others are rallying for the counterattck. It's all deep forest with lots of gunsmoke and dust further obscuring movements. Members of the 17th could have done one of those three things at this point.
11:30 Counterattack: This is the most likely time of death because two sources state that large numbers of the 17h fell in the counterattack- presumably on the 44th Alabama, or more probably elements of Benning's brigade who took over the assault on Brannan's right after the 44th reeled back. Accounts state that Company B fell back in order and was in the counterattack. With 200 in this force, more than half were from other companies. It is hard to believe that Company K's Captain Willis B. Clark did not answer the rally cheers of the 17th and participate with Stinchcomb's counterattack, especially since Stinchcomb was his former commander and had promoted him.[10]
Noon to nightfall at Horseshoe ridge. Of the three engagements, we have the least information on how many of the 17th were on the ridge, and how heavy the fighting was at their point on the line. We know that Stinchcomb and Ward were there and they were engaged- since Ward was hit in the left shoulder near his lung in the mid afternoon. Of the 3 engagements, the smallest percentage were at Horseshoe ridge, so there is the smallest percentage chance for Calvin to have been.
Capture: First, we have to assume the Ohio Roster Comission was wrong. Further, this scenario is unlikely because records of were kept of prisoners- for example all but 400 of the 17,000 who died at Andersonville have been identified. (Calvin's name did not appear on the list[1], though some of the 17th were in among the M's from Ohio). We don't know why the family believed that Calvin was killed on the 20th, but can presume that since so many of the 17th were from Lancaster county that the family were able to confirm where he died.
Burial
The Union army was in retreat in the face of overwhelming rebel strength, so it is doubtful that Calvin's body was recovered. During the months that the rebels were in control of the battleground, Union soldiers were placed in such shallow graves that portions of their bodies were above ground. They were reburied by Union forces after rebel forces retreated following their decisive defeat at
Chatanooga
when Thomas's forces took Missionary Ridge.
Further reading
Highly regarded: Peter Cozzens, This Terrible Sound: The Battle of Chickamauga, Champaign, Illinois: University of Illinois Press, ISBN 978-0-252-06594-1

 

A co member of Company K wrote his memoirs:

Sgt. A. Lanson Gierhart Co. K 17th OVI. (1907), A. L. Gierhart Papers, Columbus, Ohio: Ohio Historical Society

 

18 items. Photocopies of papers which include 15 letters to family. Other items include history of Co. K, 17th O.V.I., and Gierhart's reminiscences of three years service, written in 1907. Call# VFM 3004.

C T De Velling (1889), History of the Seventeenth regiment, First brigade, Third division, Fourteenth corps, Army of the Cumberland, E.R. Sullivan

 

Life, Speeches and Orations of Durbin Ward of Ohio[2] By Elizabeth Probasco Ward. This possibly will shed light on the movements of the 17th Ohio from Poe Field to Snodgrass hill and both the early and late engagements on the 20th. However, pickings may be slim since this volume is a collection of speeches and none appear to explicitly devote themselves to an account of Chickamauga.
The bilbliography for the 17th may have further useful sources
Notes
Footnotes (including sources)
Ad blocker interference detected!
Wikia is a free-to-use site that makes money from advertising. We have a modified experience for viewers using ad blockers

Wikia is not accessible if you've made further modifications. Remove the custom ad blocker rule(s) and the page will load as expected.