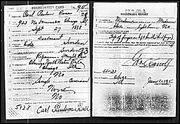 Carl Paulson Rose (1888-1966) Worker (b. September 27, 1888; Sweden - d. October 1966; Roselle, Du Page County, Illinois, USA) Social Security Number: 323-07-8519.
He married Margarit Hemwall (1891-1983), daughter of Hans Andersson Hemwall (1843-1921)
Ad blocker interference detected!
Wikia is a free-to-use site that makes money from advertising. We have a modified experience for viewers using ad blockers

Wikia is not accessible if you've made further modifications. Remove the custom ad blocker rule(s) and the page will load as expected.