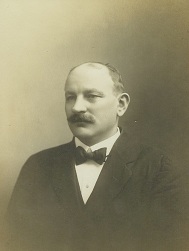 Carl Richard Volmar (March 6, 1868 - November 23, 1928) was an American immigrant born in Berlin, Brandenburg, Germany who immigrated to Hoboken, Hudson County, New Jersey. Son of Gustav Adolph Bernhard Volmar (1836-?) and Marie Caroline Fischwasser (1837-?), he was the twin brother of Theodor Bernhard Volmar (1868-1955) who settled in Secaucus, Hudson County. The twins' godparents were Friedrich Franz Alexander Theodor, Count von Solms-Sonnewalde (1814-1890) and his sister, Clementine, Countess von Solms-Sonnewalde (1817-1894).
He married on October 15, 1898 in Jersey City, Hudson County Wilhelmine Julie Bock (1875-1929), daughter of Maximilian Bock (1848-?) and Jullie N. Fliege (1846-1913). They were the parents of three daughters:
Ella Caroline Julie Volmar (1899-1988) who married in Boston, Massachusetts June 27, 1922 Harry Symon Taylor (1898-1982), son of Sidney Taylor (1846-1917) and Elspet Symon (1857-1924).
Julie Florence Augusta Volmar (1903-1997) who married in Weehawken, New Jersey October 14, 1929 John Henry Muller, Jr. (1896-1979), son of John Henry and Pauline J. Muller.
Anita Anna Elizabeth Volmar (1909-1999) who married September 30, 1933 John Hensel (1899-1975).
Mr. Volmar was a waiter, a member of the Workman's Sick and Death Benefit Fund of America, No. 292, and the Waiters' and Cooks Social Club and Union. He became a naturalized American citizen on September 26, 1905 and is buried in Fairview Memorial Park and Mausoleum, Bergen County, New Jersey.
Ad blocker interference detected!
Wikia is a free-to-use site that makes money from advertising. We have a modified experience for viewers using ad blockers

Wikia is not accessible if you've made further modifications. Remove the custom ad blocker rule(s) and the page will load as expected.