Northern California
Talk

0
136,514pages on
this wiki
Category page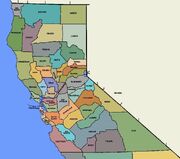 Northern California is a region consisting of the 48 counties in California north of 35° 47′ 28″ north latitude, which is the only place within California where county borders make a contiguous east-west line across the state.
Of 48 counties in Northern California, some are subcategorized under Counties in the San Francisco Bay Area (11 counties).
Subcategories
This category has the following 5 subcategories, out of 5 total.
C
M
N
S