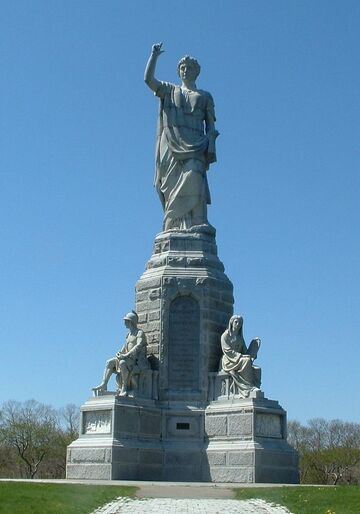 Primary Article: National Monument to the Forefathers, formerly known as the Pilgrim Monument, commemorates the Mayflower Pilgrims. Dedicated on August 1, 1889, it honors their ideals as later generally embraced by the United States. It is thought to be the world's largest solid granite monument. Located on an 11 acre hilltop site on Allerton Street in Plymouth, Massachusetts, this impressive 81-foot-tall granite statue stands to honor those who arrived here nearly 400 years ago in 1620.
Pages in category "People honored on National Monument to the Forefathers"
The following 97 pages are in this category, out of 97 total.
A

B

C

D

E

F

G

H

L

M

M cont.

N

P

R

S

T

W
Ad blocker interference detected!
Wikia is a free-to-use site that makes money from advertising. We have a modified experience for viewers using ad blockers

Wikia is not accessible if you've made further modifications. Remove the custom ad blocker rule(s) and the page will load as expected.