Name
Birth
Death
Children of PARENTS NAMES
























References
Edit
Catherine was the last of eleven children of Alexander Thom Cringan (1860-1931) and Lillias Rennie Waugh (1861-1929). She was born in Toronto on April 25, 1907. Cay married Joseph Story Atkinson at Timothy Eaton Memorial Church in Toronto on Oct. 23, 1929. She died in Toronto on March 13, 1960.
Joseph S. Atkinson (1904-1968) was the Publisher of the Toronto Daily Star [1] from to . He was the son of the Star's founder, Joseph E. Atkinson.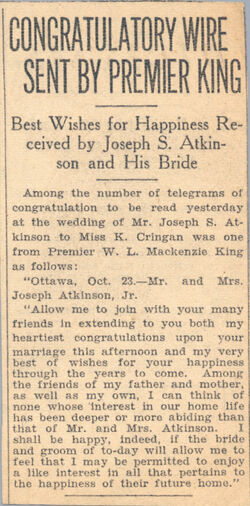 Ad blocker interference detected!
Wikia is a free-to-use site that makes money from advertising. We have a modified experience for viewers using ad blockers

Wikia is not accessible if you've made further modifications. Remove the custom ad blocker rule(s) and the page will load as expected.