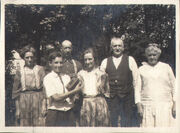 Catherine Lavinia Lattin (1878-1964) was a housewife. (b. May 11, 1878, Farmingdale, Nassau County, Long Island, New York, 11735, USA - d. July 19, 1964, Hauppauge, Suffolk County, New York, 11788, USA)
Richard Arlington Brush
Edit
Her sister, Mary Esther Lattin (1875-1895), married Richard Arlington Brush (1874-1944).
After Mary's death, Catherine herself married Richard Brush to be his second wife. They were married on Christmas Day, December 25, 1896, in Farmingdale, Nassau County, Long Island, New York.
Together they had the following children:
Dorothy Esther Brush (1900-?)
Arlington L. Brush (1902-?)
She died on July 19, 1964 in Hauppauge, Suffolk County, New York and was buried in Hauppauge Rural Cemetery.