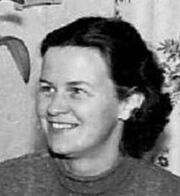 Birth and death
Edit
Cerny Asta Karola Lind was born on April 3 1921 in Jönköping Sofia parish, mother´s home address and parish Huskvarna, d. in Jönköping November 17 2009.
Nanny Amanda Natalia Haglund, b. Sjögren in Ronneby, Sweden Feb 7 1887, d. in Jönköping, Sweden Aug 8 1981.
Karl Erik Johansson (1901-1983), b. in Skärstad, Jönköping county.
Maternal sister and brothers:
Married May 31 1947 to Karl Erik Rune Lind, b. January 23 1921 in Bankeryd parish, Jönköping county, Sweden, d. January 13 1985 in Ljungarum parish, Jönköping county.
Lars Göran Rune b. March 3 1948
Inger Asta Margareta b. December 13 1949
Ad blocker interference detected!
Wikia is a free-to-use site that makes money from advertising. We have a modified experience for viewers using ad blockers

Wikia is not accessible if you've made further modifications. Remove the custom ad blocker rule(s) and the page will load as expected.