Ad blocker interference detected!
Wikia is a free-to-use site that makes money from advertising. We have a modified experience for viewers using ad blockers

Wikia is not accessible if you've made further modifications. Remove the custom ad blocker rule(s) and the page will load as expected.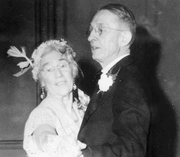 Charles Edward Ensko I (1880-1952) was the United States manager for the Hunyadi János Mineral Water Company of Budapest, Hungary. (b. April 29, 1880; New York City, New York, USA - d. November 24, 1952; Levittown, Bucks County, Pennsylvania, USA)
He was born on April 29, 1880.
Hunyadi János
Edit
He was the US manager for the Hunyadi János Mineral Water Company of Budapest, Hungary.
On October 20, 1916 he applied for a passport to visit Budapest. On January 13, 1917, he was returning to the United States, first-class, aboard the twin screw Steamer "Noordam" going from Rotterdam in the Netherlands to New York.
On June 29, 1918 he married Elizabeth Dempster MacIlwraith (1890-1987) in Manhattan and his marriage certificate number is "19630".
World War II
Edit
He registered for the "old man's" draft in 1942. He was 5' 8" and 160 pounds. He had a body mass index of 24.3.
He died in 1952 and his funeral notice appeared in the New York Times on November 24, 1952, on page 23: "Ensko - Charles Edward, Sr. at Levittown, Pennsylvania, beloved husband of Elizabeth McIlwraith Ensko, devoted father of Eloise Ensko Higgins and Charles Ensko, Jr. Services at "The Universal Chapel." Lexington Avenue at 52nd Street on Wednesday, November 26, 1952 at 11 a.m."
Memories about Charles Edward Ensko I
Edit
External link
Edit