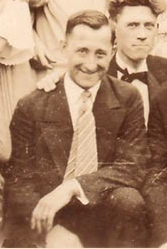 Charles Henry Pilkington (1887-1956) Life Insurance (b. February 04, 1887, Farmingdale, Nassau County, New York, USA - d. September 28, 1956, USA)
Son of Henry Pilkington and Phebe Powell.
He had a brother, William Pilkington.
Charles married Jennie Alice Lattin (1888-1958) on February 28, 1905 in Farmingdale, Nassau County, Long Island, New York.
Charles may be buried in Berlin, New Jersey.
Memories of Charles Henry Pilkington
Edit
Lorraine Agnes Pilkington (1929- ) said on March 15, 1999: "He was asphyxiated by gas from the stove. I think that [Jennie Alice Lattin] murdered him and she made it look like a suicide."
Sheila Pannitti wrote: "[There are] lots of stories about Jennie Alice Lattin divorced/widow/murdering her husband Charles Pilkington. I have not been able to confirm anything whatsoever on what happened, where they are buried, or whether or not they actually divorced at some point, etc.. Jennie "Alice" is found in 1920 and 1930 census in Philadelphia as a "widow". Then there is a photo of her at the wedding of her brother in Long Island in 1929, allegedly Charles Pilkington is in it as well. If anyone can help shed some light on the final burial place of either Jennie Alice Lattin (rumor was that she married a second time to Joseph Carpitello, though absolutely no information to confirm this individual's existence at all."