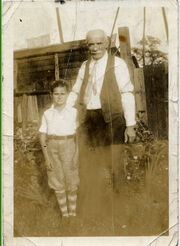 Name: Charles R Kahrar
Birth Year: 1922
Race: White, citizen (White)
Nativity State or Country: New Jersey
State: New Jersey
County or City: Hudson

Enlistment Date: 6 Jun 1942
Enlistment State: New Jersey
Enlistment City: Newark
Branch: Air Corps
Branch Code: Air Corps
Grade: Private
Grade Code: Private
Term of Enlistment: Enlistment for the duration of the War or other emergency, plus six months, subject to the discretion of the President or otherwise according to law
Component: Army of the United States - includes the following: Voluntary enlistments effective December 8, 1941 and thereafter; One year enlistments of National Guardsman whose State enlistment expires while in the Federal Service; Officers appointed in the Army of
Source: Civil Life

Education: 3 years of high school
Marital Status: Single, without dependents
Height: 69
Weight: 157


Ad blocker interference detected!
Wikia is a free-to-use site that makes money from advertising. We have a modified experience for viewers using ad blockers

Wikia is not accessible if you've made further modifications. Remove the custom ad blocker rule(s) and the page will load as expected.