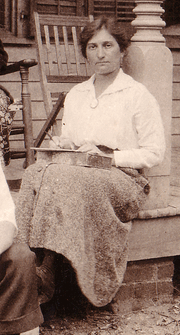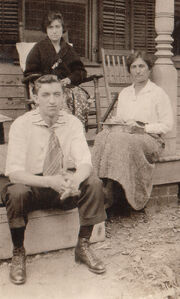 Clara Freudenberg (1889-1959) never married. (b. September 9, 1889, 89 Adam Street, Hoboken, Hudson County, New Jersey 07030-2401, USA - d. November 02, 1959, Keansburg, Monmouth County, New Jersey, 07734, USA)
She was born on September 9, 1889 at 89 Adam Street, Hoboken, New Jersey.
Eloise and Max had 15 children, 9 lived to adulthood, and 5 of them had children and grandchildren.
Education
Edit
He dropped out of school after completing the 8th grade according to the 1940 United States Census. He would have been around 13 and it would have been around 1902.
Never married
Edit
Clara never married and she took care of her mother when the family lived in a 2-family house in Jersey City. Clara and her mother lived in the apartment under her brother: Richard F. Freudenberg (1896-1988).
Memories of Clara Freudenberg
Edit
She died in Keansburg, New Jersey of a heart attack.
Funeral notice
Edit
Her funeral notice appeared in the Jersey Journal on Wednesday, November 04, 1959 and reads as follows:
Freudenberg - Clara, on November 2, 1959, of 136 Cottage Street, Jersey City; sister of Arthur, Richard, Ralph, and Mrs. Grace Sanford. Relatives and friends are invited to attend the funeral service at the Otto Mack Funeral Home, Central Avenue and Hutton Street, Jersey City, Thursday, November 5th at 2 p.m. Interment Flower Hill Cemetery, North Bergen.
She was buried in the Freudenberg family plot in Flower Hill Cemetery, North Bergen, New Jersey:
Portraits
Edit
Documents
Edit
External links
Edit
Ad blocker interference detected!
Wikia is a free-to-use site that makes money from advertising. We have a modified experience for viewers using ad blockers

Wikia is not accessible if you've made further modifications. Remove the custom ad blocker rule(s) and the page will load as expected.