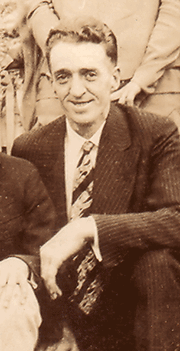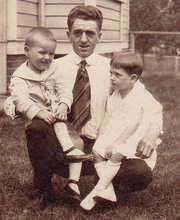 Dewey Ernest Lattin I (1898-1985) US Army, World War I Veteran. Lived in Cuba from 1909 through 1915 (b. September 16, 1898, Farmingdale, Nassau County, Long Island, New York, 11735, USA - d. February 13, 1985, Lake Helen, Volusia County, Florida, 32744, USA) Social Security Number 060090513.
Dewey was born in 1898 in Farmingdale, on Long Island. He was the second to last child of Jarvis Andrew Lattin (1853-1941) and Mary Jane Puckett (1854-1927). His father worked selling food on the Long Island Railroad and around 1870 was a pioneer and travelled to Carroll County, Iowa and later Holt County, Nebraska around 1881. Jarvis' farm in Nebraska failed and he tried prospecting for gold in the Dakota Territory.
Together Jarvis and Mary had the following children: Mary Esther Lattin (1875-1895) who married Richard Arlington Brush (1874-1944); Catherine Lavinia Lattin (1878-1964) who married Richard Arlington Brush (1874-1944) as his second wife, after her sister died; Julia Ann Lattin (1880-1960) who married Alfred William Poole (1881-1959); William Henry Lattin (1882) who died as an infant; Myrtle Adelia Lattin (1884-1970) who married Charles Haley Williams (1884-1960) after they met in Cuba; Deluth Andrew Lattin (1886-1887) who died as an infant; Jennie Alice Lattin (1888-1958) who married Charles Henry Pilkington (1887-1956); Charles A. Lattin (1890-1891) who died as an infant; Eva Ariel Lattin (1892-1939) who married Anton (Tony) Julius Winblad II (1886-1975) after they met in Cuba; Frederick E. Lattin (1894) who died as an infant; Effie Jeanette Lattin (1895-1989) who married Josiah Barnes Pomeroy (1882-1956) after they met in Cuba; Theodore Roosevelt Lattin (1901-1980) who lived in Cuba from 1909 to 1915 and married Bertha Christina Nelson (1905-1980).
Isle of Pines, Cuba
Edit
Jarvis moved the family to Cuba in 1909 but Dewey, and his siblings Eva and Teddy came home in 1915 and lived with Eva and her husband Anton Winblad in the Bronx in New York.
World War I
Edit
He served in the Army in World War I.
He married Elizabeth Henry (1903-1987) on January 28, 1922 in New York.
Dewey had three children: Dewey Ernest Lattin II (1922-1982); Leonard Andrew Lattin (1925-2005) and Lee.
Leonard senior died in Lake Helen, Volusia County, Florida on February 13, 1985 and he was buried in DeLand Memorial Gardens in Florida.
External link
Edit
Ad blocker interference detected!
Wikia is a free-to-use site that makes money from advertising. We have a modified experience for viewers using ad blockers

Wikia is not accessible if you've made further modifications. Remove the custom ad blocker rule(s) and the page will load as expected.