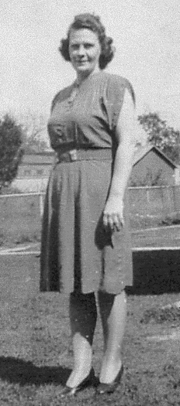 Dorothy Ina Stead (1911-1989) was a housewife. (b. July 26, 1911, Girard, Macoupin County, Illinois, USA - d. March 03, 1989, New London, New London County, Connecticut, USA) Social Security Number 578487326.
Dorothy was the daughter of Harry Owen Stead (1883-1969) and Barsha Buelah Coulter (1887-1942).
James Francis Owen Stead; (1905-?); Jessie Marie Stead (1907-?); Mildred Alice Stead (1909-?) who married Ernest Gates; Dale Hamilton Stead (1921-?); and Ruby Louise Stead (1929-?).
First marriage
Edit
She married George Prescott Overton I (1901-1958) on June 02, 1929 in Washington, District of Columbia.
Children with Overton
Edit
Child with Atkins
Edit
She had a child with a man name Atkins, and that child was Vincent Randall Atkins, Sr. (1939-1992), who died of pancreatic cancer.
Second marriage
Edit
Around 1940 she married Russell Jensen and moved to Connecticut. Russel was in the US Navy and he was moved from the Washington, District of Columbia area to Groton, Connecticut where there is a submarine base.
Child with Jensen
Edit
She died in 1989 while living at 22 Branford Avenue in Groton, Connecticut.
It is not know what cemetery she was buried in.
External link
Edit
Ad blocker interference detected!
Wikia is a free-to-use site that makes money from advertising. We have a modified experience for viewers using ad blockers

Wikia is not accessible if you've made further modifications. Remove the custom ad blocker rule(s) and the page will load as expected.