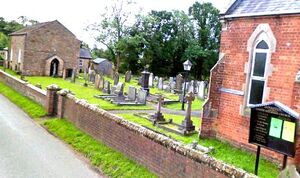 The DOVASTON FamilyEdit
of the Old Farm, Dovaston, a township of Kinnerley, Shropshire, England.Edit
Daniel Dovaston (c1624-c1675) Owner of a freehold estate at Dovaston "Which had been held by his family since the days of Good Queen Bess and still so remains". He came to the adjoining parish of West Felton in the year 1675.
Ruth Dovaston-Stant [Daniel's 8th Great Grandaughter] started her interest in the Dovaston Family Tree back in the 1980's. After much painstaking research in dusty libraries, she soon realised her family went back to one man, Daniel Dovaston (c1600-) at Kinnerley in Shropshire, so she drew up the first Dovaston Ancestral Chart and later published it during the early days of the Internet. Her original Dovaston website began in the 1990's and she has since helped many genealogists find their link to her extensive Dovaston Family Tree.
Ruth's 'Dovaston Family Tree' can be found at:
Ad blocker interference detected!
Wikia is a free-to-use site that makes money from advertising. We have a modified experience for viewers using ad blockers

Wikia is not accessible if you've made further modifications. Remove the custom ad blocker rule(s) and the page will load as expected.