Ad blocker interference detected!
Wikia is a free-to-use site that makes money from advertising. We have a modified experience for viewers using ad blockers

Wikia is not accessible if you've made further modifications. Remove the custom ad blocker rule(s) and the page will load as expected.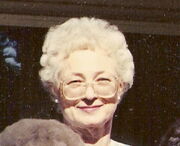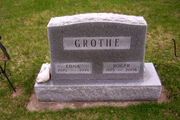 Edna Mae Williamson (1925-1993) Housewife (b. December 27, 1925, Ada, Norman County, Minnesota, USA - d. March 08, 1993, Mesa, Maricopa County, Arizona, USA)
She married Roger Allen Grothe (1923-2008) in Hendrum, Minnesota on November 27, 1946.
External links
Edit
Ancestors
Edit
Edna Mae Williamson (1925-1993)'s ancestors in three generations
Edna Mae Williamson (1925-1993)
Father:
Paternal Grandfather:
Paternal Great-grandfather:
Paternal Great-grandmother:
Paternal Grandmother:
Paternal Great-grandfather:




Paternal Great-grandmother:




Mother:
Maternal Grandfather:




Maternal Great-grandfather:




Maternal Great-grandmother:




Maternal Grandmother:




Maternal Great-grandfather:




Maternal Great-grandmother: